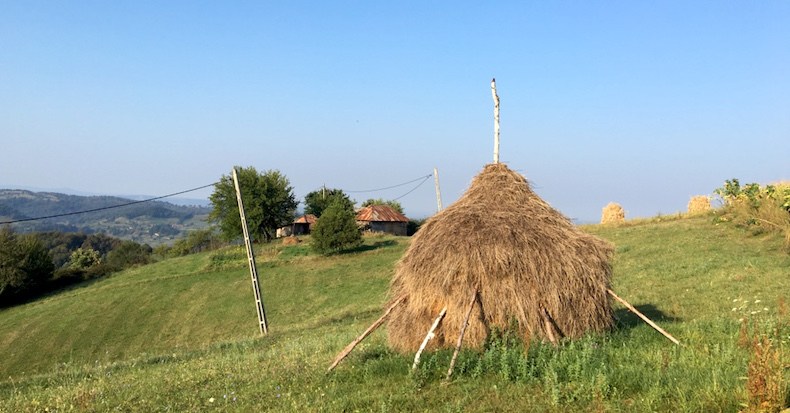 Romania A travel back in time!
6
mins read
It´s been a while since I experienced Romania. The feeling of traveling back in time. It might sound like a cliché, but a short getaway to a destination full of – to me – unfamiliar traditional livelihoods, is just what I dreamt of. I found it in a region of Apuseni mountains in Romania.
Jeanett Andrea Søderstrøm
Jeanett travelled in September 2016 with Ethical Travel Portal to the Apuseni mountains in Romania to travel back in time. During her four days there, she hiked, painted eggs, cooked local food, did some pottery, hunted trouffles, canoed, swung over the forest canopy, did caving underground, and climbed the mountains via Feratta. She fondly describes some of her experiences from the trip.
We're back from a short trek in the hills of the village Rosia, and stand absorbing the view of endless green fields. The mountains in the horizon lay like a blurred grey pensile stroke that separates the agriculture scenery from the blue sky. It´s a sunny day and characteristic pointed hay stacks typical in this region, stand out like golden dots on the fields. Sticks lean against them for enhanced stability to the ground and make them look like a bunch of huge friendly trolls with long arms.
Suddenly a loud noise interrupts the peace. At first it´s hard to tell what it is, but our attention quickly goes to the road from where it´s approaching. A traveller in my group is already in the middle of the road far away from us. He stands waving with his camera, and then I see it: A couple on a horse with carriage is approaching. They´ve got a surprising speed and pass us in an instant, leaving a dusty cloud behind. From where I´m standing I only got a good glimpse of the old wrinkly woman with a headscarf, and raise my arm in a response to her toothless smile. She looks over her shoulder and yells something to greet us, while the old man next to her is busy steering the horse. The stack of branches on their carriage trailer bounces behind them as they disappear around the next curve. I awe at the scene I was just witnessing, and curse to myself for not getting a picture of it. Nonetheless, I feel butterflies in my stomach because this is where I´ll spend the next three days.
Rosia is a village in Pădurea Craiului, in the Apuseni Mountains. Pădurea Craiului is in the North-western part of Romania, and translates to The Prince´s forest. It is famous for it's pristine nature and flower fields, traditional agriculture and artisans, wide ranging mountains brilliant for hiking and biking, and charming villages and guesthouses perfect to kick back in. It is a less known part of Romania and a feeling of traveling back in time.
Together with their local partner, the NGO Center for Protected Areas and Sustainable Development Bihor, Ethical Travel Portal wants more people to enjoy this experience, and I was invited on a trip to explore Apuseni Mountains. Knowing ETP and supporting their focus to take care of the environment and cultural heritage in destinations, while making sure local people benefit from tourism; a topic I've written about and supported for years through my blog, I was happy to embark this experience!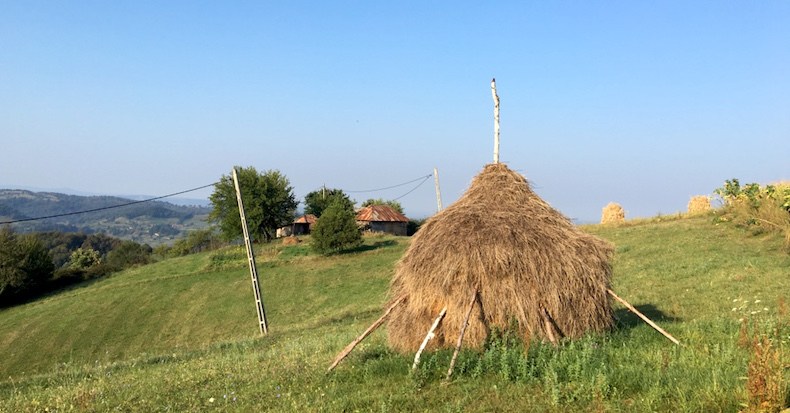 I've never been among the travellers who typically want a tour to be programmed prior to traveling… Call it unintentional, call it a personality thing. I just seldom get a trip organised before embarking on it. But after this experience, I realised I need to change my perception of organised trips as I´d never manage to do everything we did in only four days! Note to self.
After admiring the surroundings for a while in Rosia, Romania; we´re a bit more used to see old people in worn out clothes transporting hay, branches and cattle on the roads. Our guide Diana tells us it´s time to move on to the neighbouring village Dragoteni. The further we get away from Rosia, which I honestly thought was a small village, I learn that there are plenty of much smaller villages around, with equally less consistence in terms of architecture. Houses made of wood or concrete painted in a variety of colours like green, turquoise and orange, pass by. Their roofs are either flat or pointed, made of tin or occasionally covered up with random planks. Romania´s recent past as a rather closed and deprived country becomes more evident as we move on.
Trees and flowers are taken very good care of, and some houses actually look more like they´re made of roses than anything else. Cats and dogs emerge from everywhere, and here too cats follow their universal rule by taking demand on the upper level territories. They sit or walk peacefully on window sills, walls and roof edges, while dogs stay closer to the people around. We start talking about the elder generation that occupy benches around every corner. What are they possibly gossiping about? I realise I love sitting like this in an object passing by strangers´ lives, yet I´d rather be on a bicycle on a beautiful day like this.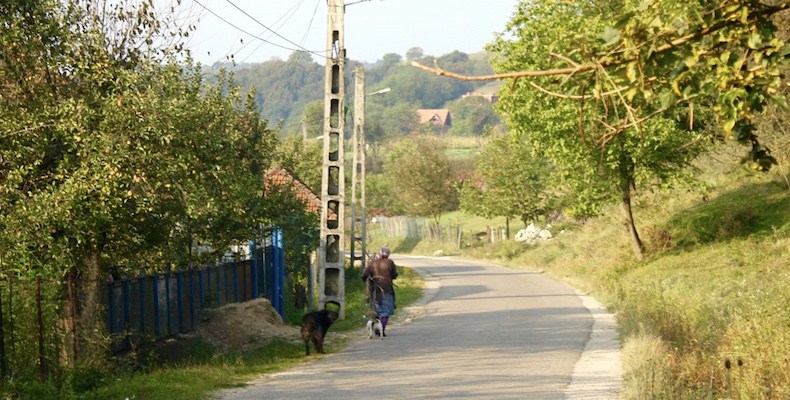 It looks like a drawing from a child´s book, although we don´t see that many children around. Men however, on some kind of a job duty, push trolleys or carry sacks of material on the streets, appear behind all sorts of steering wheels.
Why are there so few young people, I ask Diana.
Diana tells us that unemployment is high in Pădurea Craiului and that the most common jobs in farming and caving, are hard. Hence, most young people leave for the cities to look for work or get an education. Romania has modernised a lot over the last decade; rural life is still predominantly traditional in places like Pădurea Craiului making it less attractive to young people, because of lack of interesting work. Tourism is one contributor with the possibility to revert this trend.
We park our car in the destination for the evening: the village Dragoteni in Romania. Traditional clothing and egg decoration is on the agenda, before we´ll have dinner at an old guesthouse. Both activities are part of ways visitors can learn more about cultural heritage through tourism in the region. Even before entering her house ten minutes go by watching ancient tractors pass by; timeworn women sit chatting outside of their houses; huge Canada geese walk freely around; old farmers take their cows home for the night. We greet them all and walk over to the egg-artisan.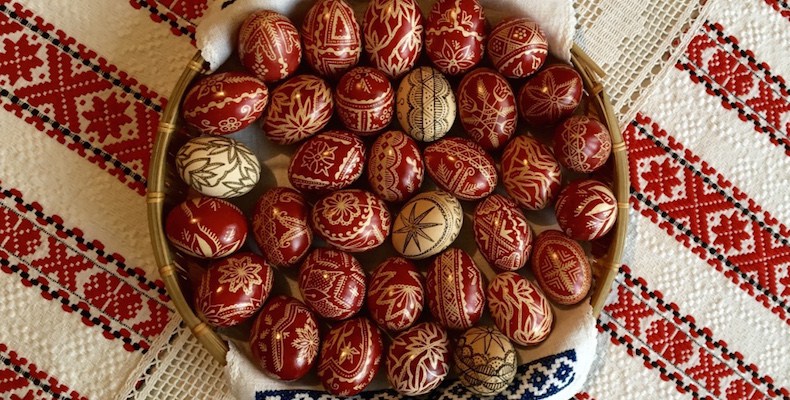 She´s a middle-aged woman with a warm smile and her front garden is full of wine grapes and roses. She´s wearing a flowery blouse and sparkling earrings, and blends in perfectly in her own workshop that´s full of colourful pillows, blankets and scarfs. Our guide translates as the artisan exhibits some embroidered pieces of clothing and tells us about their symbolism in old dowry customs in the area; a tradition that´s vanishing today due to various – and logical – reasons.
Decorating eggs is one of the vanishing traditions. As an old Christian tradition, it's something I'm familiar with even in my secular home country Norway. There, it's about kids painting eggs for fun before Easter, but as far as I can remember they end up looking quite different than the eggs in the basket on the picture above. Reasonably of course, as the woman in charge has mastered this art for decades. Apparently, passing the skill onto younger generations so that the tradition doesn´t die out, is one of her motivations in life. I realise it´s a beautiful thing that some people have a drive to protect old customs, yet we also chat about the evident reasons to why traditions too change with time.
The artist gathers some empty eggs from a closet and sits down on a children sized chair in front of a tiny table. Given her grownup size, it doesn't look very comfortable but she claims to like it. A candle placed beneath a box of wax is lit, and the artist dips a pencil with a metal tip in the soft wax and starts drawing lines with it on an egg. In approximately 1 minute all the lines that create the basis of a pattern to be filled with colours, are drawn out. As an amateur artist, I get drawn towards the act and the lady encourages me to give it a try. I´ll spare you for the details about the demanding pencil use technique, but let´s just say that I managed to draw some lines on my little egg. Also, it feels quite meditative.
After an hour visit and the sun is soon setting and reminds us that there's a world outside of the historic workshop. We're all quite hungry and ready for the next stop… (next blog of the adventure will come soon)
Written by Jeanett Andrea Søderstrøm
Check out her blog at Gipsy Giraffe.
Sorry, the comment form is closed at this time.