Off the Beaten Path to Bergen, The Fjords and Hardangerfjord
When you ask individuals why do you travel? Most may say because of the people, food, location, scenery and attractions. However, some will say to learn more than the standard tourist. It can be argued that travelling is also about taking an element of risk which means venturing off the beaten tourist route. As that way, you get to witness a country from another perspective. That is the perspective of a local.
Here at Ethical Travel Portal we combine all of this by allowing you to see and experience the great areas of Norway away from the common tourist route. No trip to Norway would be complete without visiting either Bergen, Fjords or the mighty Hardangerfjord region. Lucky for you, this trip allows you to experience them all.
Did you know Bergen is Norway's second-biggest city? Likewise, did you know it is surrounded by magnificent mountains as well as fjords? Bergen and the nearby towns around showcase some gorgeous scenery which you will witness on this journey.
Trip Highlights:
Enjoy scrumptious Norwegian food
Explore Bergen like a local
Relax on a mesmerizingly scenic fjord cruise
Visit the amazing Bondhus Glacier
See the beautiful waterfall of Furebergsfossen
Interested? Enquire with us today. Want to know more? Click on the trip plan above for further information!
Destination

Included

Off the Beaten Path to Bergen, The Fjords and Hardangerfjord

Transportation

Bed & Breakfast

Not Included
1
Day 1: Arrival into Bergen and pick your activity
Welcome to Norway and its former capital. You have arrived into the charming city of Bergen situated on Norway's South West coast. Here you'll find yourself surrounded by the ocean, mountains and fjords. There are many outdoor and cultural activities to take part in here. Upon arrival, we have three options for you to choose from:
Go local and meet a Bergenser who will take you on a tour around town. Providing you with information and see Bergen from a local perspective.
Come meet us at a local coffee place and try a heavenly local brewed coffee. If coffee is not your thing, try a tasty local alternative. During this meeting, we will discuss your upcoming trip, provide recommendations for activities or food places, talk about Norway and anything else you may be interested in (politics, history and so forth).
Accompany us for a scrumptious dinner at a favourite local restaurant. Here your palette will undergo some tasting of Norwegian heritage food (suitable for all diets). Take pleasure in a lovely dinner with our local expert who will tell you stories, fun facts, answer your questions and have a fantastic time.
2
Day 2: Explore Bergen like a Bergenser
Good morning, we hope you had a good rest. Enjoy a scrumptious breakfast and then start your day. Afterwards, meet at 9:00 AM prompt as a local resident will be here to lead you on a custom private tour of Bergen. Our local guides have different specialties, you can choose one of the following options to base your private tour on:
Journey through history- Begin from the centre then visit Bergen's hidden secrets, houses, history and customs. This walk will allow a local guide to supply you with stories on Bergen's history and culture.
Explore parks and architecture- A walking tour with ease allowing you to visit notable exteriors and city parks. Throughout this tour, you will visit Bergens largest church St Johannes, a botanic garden and Bergen's largest yet most beautiful park Nygårdsparken. Likewise, you will also see the city's narrow lined streets, charming traditional Bryggen houses and Nordes park. Throughout this walk, your guide will provide you with stories and local recommendations.
Hike Mt Sandviken- You will be taken to Mt Sandviken one of Bergen's seven mountains. You will visit Stoltzekliven a place with a local favourite of around 900 steps built by Nepalese Sherpas. It features the steepest trail in the world and at its top showcases some epic panoramic views.
Music-related: Join in with local music or visit music locations as well as spots around town. You will be educated about famous Bergen musicians such as the likes of Edvard Grieg and Ole Bull to name a few. Then conclude the night with a local concert or a jam if you wish!
Viking Heritage: Go back in time on an epic trail of Viking kings and warriors. You will see and hear the development of society, mythology and city construction within the former capital of Norway, Alrekstad or Bjørgvin.
If you have something else in mind, let us know and we will accommodate accordingly. After all, it's your trip it's about what you'd like to experience! Then, the rest of your day is at your leisure to explore the epic city of Bergen. We advise getting a 24 hour Bergen card as that will allow you free bus travel across the city as well as access to some museums and attractions. It's worth taking advantage of. You can find more about this at
VisitBergen
.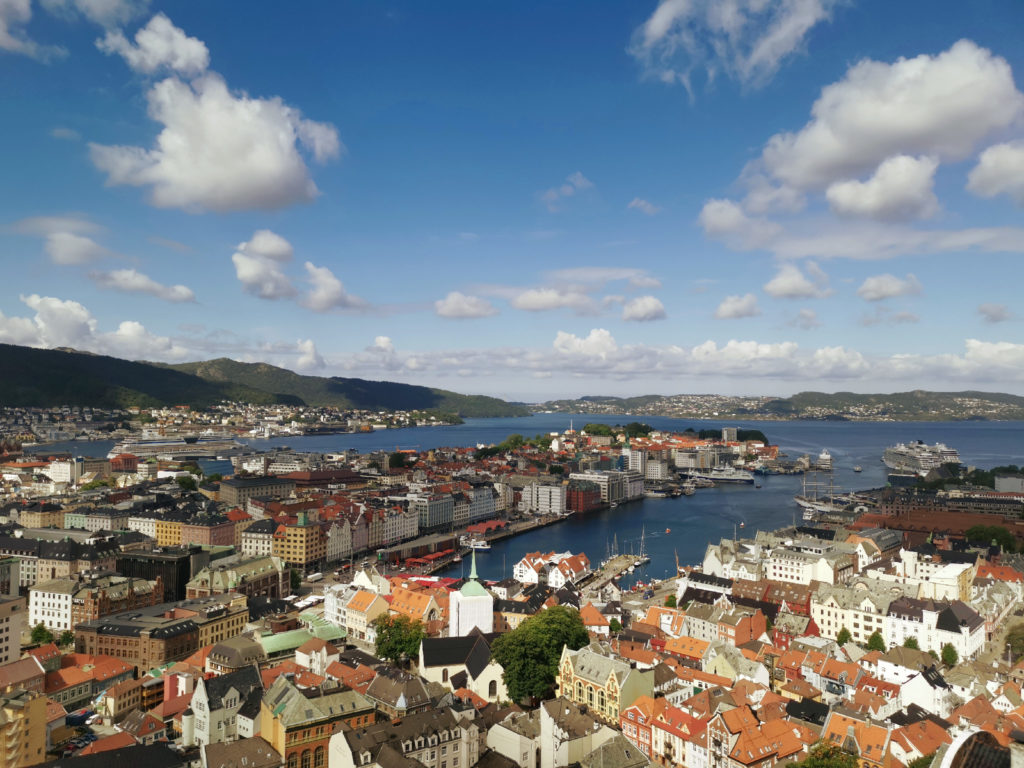 3
Day 3: A day filled with alluring sights such as Rosendal and Bondhus Glacier
Devour an early breakfast and venture down to the end of the Strandkaien pier which is next to the fish market and city centre. This morning you will take a fantastic fjord cruise leading you around the fjords finishing up at the sublime Rosendal. Upon arrival, you will be greeted by locals who will lead you on a daytime experience to Bondhus Glacier. Where you can try scrumptious local food. Later, you will be transported via car along the scenic Hardangerfjorden and the waterfall Furebergsfossen prior to the beginning of the easygoing walk. Whilst doing so, pay attention to wild strawberries, blackcurrants and many other seasonal fruits on the journey. Don't worry if you're not the keen hiker. This walk is suitable for all levels of walker and in total takes around 2 hours to complete. On the other hand, if you're up for more of a strenuous challenge you can follow further along the lake or the path up the Vetledalen Valley, 320m AMSL. Here you can make a further a closer approach to the Bondhus Glacier. If you choose to, take a breath in the fresh air and enjoy the amazing view. Likewise, if you're brave enough to bring your swimsuit for a dip in the fresh glacier water. Temperatures in this water average around 1-2 degrees Celsius. After your hike today, you will be taken back to the pier for your return journey. However, the boat will take you to Os a city South of Bergen in Hordaland county.
4
Day 4: Make the most of Os at your leisure
Wake up, have a delicious breakfast and make the most of Os's scenic surroundings. We recommend a few activities to try here they are the following:
Hike to Liafjellet- Hike and witness mesmerising views of the fjords,mountains and open sea. In total this will take around 3 hours and is a medium level hike.
Hike to Borgafjellet- Another hike with stunning views of the fjords, glaciers and mountains. In total this around a 2.5-hour hike,it's steep and a medium level.
Cycle or run the Borgyabada route- This is a nice route and a round trip from Solstrand. Whether you choose to run or cycle you will pass the seaside, local residential areas and pass a river. This route is filled with a variety of scenery.
Spa and wellness centre- Relax and get treatment if you like in the beautiful environment of Solstrand.
Row or Kayak in the fjord- Solstrand offers two wooden "Oselvar" rowing boats (Norwegian national boat). -This national boat is crafted in Os village.
5
Day 5: Goodbye for now Os, time for home!
Take time to enjoy a tasty breakfast and then make the decision of which ferry to get back to Bergen. Make the most of your time in Bergen before your flight home.
Sorry, the comment form is closed at this time.