Do you like to travel off beaten away from the standard tourist track? Nepal is a great country you can do this, especially in the mighty area of the amazing Annapurna. Here at Ethical Travel Portal, we take you through some off beaten villages on this adventured filled trek.
This trek has taken inspiration from the remarkable Mahabir Pun. He had a hard time finding the correct information to undergo his education. Finally, after several tries, he managed and eventually travelled all the way to the USA to gain a higher education. The mighty Mahabir was from a rural village in Nepal. The fact that he could not readily access information from his own village left him frustrated as he could easily access in the USA. This was a frustration of his which constantly kept nagging at him.
After some time in the USA, he eventually came back to Nepal and set up a foundation that worked exclusively to make information accessible to rural villages in Nepal via the internet. This has become so successful that Mahabir even won the Magsaysay Award.
On this trek, we venture through some of the first villages to come under this project and it was used to fund the projects coming under this scheme. Likewise, the homestays and community eco-lodges support education, technology and many more. Which on this journey you'll witness and will provide you with a fantastic feel-good factor. Throughout this trek, you will enjoy amazing views of Dhaulagiri, the seventh highest mountain in the world. Also, you will see Annapurna I the tenth highest mountain in the world. As well as the charming warm Nepali hospitality provided in the villages.
The highest point on this trek is Khopra Danda which is 3600 metres. Unless you choose to take an extra day to go to Khayer Lake.
Trip Highlights:
A scenic flight from Pokhara to Kathmandu
Experience amazing pun hospitality!
Enjoy a tasty local lunch prepared by the charming community of Dandakateri
Magical sunrise views at Mohare Danda
Weather permitting, views of some of the highest mountain range in the world
Witness an unparalleled view of Dhaulagiri
Learn about the projects in Pokhara
Includes:
Airport pick up
Some food
Guide and helpers (porters), assistance according to the group size
All land transportation (based upon itinerary)
Flight to Pokhara and Kathmandu
TIMS (Trekking Information Management System) card
Annapurna Conservation Area permit.
Sightseeing with guide, transport and monument entry fees
All government Taxes
If you like to make memories, this is definitely a trek for those. Interested? Enquire with us today. Want to know more? Click on the trip plan above for further information!
Destination

Included

Community Eco-Lodge Trek

Local Guide

Transportation

Not Included

Dinner

Lunch

Bed & Breakfast
1
Day 1: Bas Kharka (1750 metres)
This morning we take an early flight from Kathmandu to Pokhara. If the weather permits prepare for some epic views of Nepal. On average this flight takes around 25 minutes. Upon arrival at the airport, we will meet our trek leader. There is a ready vehicle which will take us to the trailhead of Galeshwor, this will take around 5 hours. If it all goes according to plan, we will walk about 2.5 hours to reach Bas Kharka. Today we get an insight into the amazing Pun hospitality. Tonight we will be sleeping in Bas Kharka which is 1750 metres above sea level.
Included:
Lunch
Dinner
Flight to Pokhara
Jeep
2
Day 2: Uphill journey to Nagi (2300 metres)
Devour an early breakfast as we say goodbye to our hosts in Bas Kharka. We start our uphill journey up to Nagi. We shall stop for a delicious lunch prepared by the community of Dandakateri. Afterwards, we resume walking and finish up in Nagi. Where we will spend the evening and appreciate the beautiful views.
Included:
3
Day 3: Trek through beautiful scenery to the mesmerising Mohare Danda (3300M)
Today we have an early start again. This morning we will begin by moving uphill from Nagi and we will trek through gorgeous forests. There is also a stiff uphill that brings us to a small pass where we stop for lunch. We will relax there for a while, and proceed for another 2-3 hours to trek a ridgeline and uphill to reach our first highlight Mohrare Danda.
Included:
4
Day 4: Swantha (2400 metres)
Enjoy a glorious early sunrise at Mohare Danda (3300 metres). If the weather permits you will witness some of the highest views in the world. Take time to enjoy this with a nice cup of coffee or tea making it a magical experience. From breakfast, we unwilling to go down the trail to cross the main trail and reach a small village of Swantha deep down on the Valley side. This is where we will spend our evening.
Included:
5
Day 5: Khopra Danda (3600m)
When we begin our trek today, we start by trekking through agricultural fields and enter a forest. This will be until lunchtime and afterwards, the trail gets progressively steeper. We will have to walk up all the way up to the ridge at 3600 metres. Where we spend our evening in Khopra Danda. There is a community eco-lodge that funds girl education and a yak farm. Situated on a ridge, it provides unparalleled views of Dhaulagiri.
Included: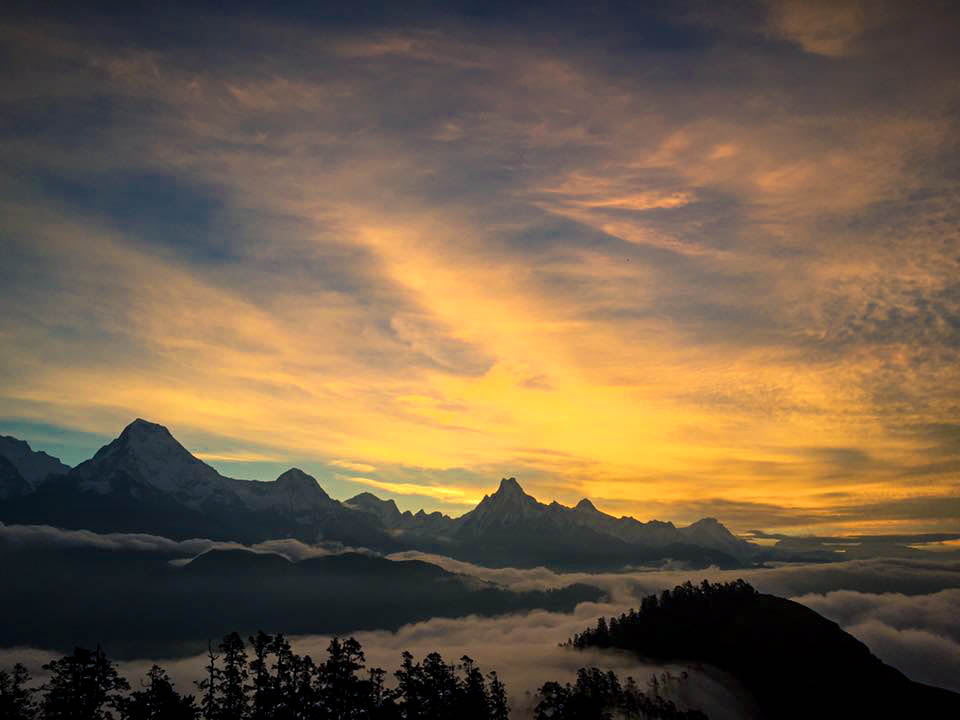 6
Day 6: Bayali (3100 metres)
Today hiking you'll discover there are not many trees and you'll notice we will be walking through mostly high pastureland. If you're trekking in the summer season witness the independent yaks roaming around. In total, we will do around 5-6 hours of walking leading us to Bayali for the evening.
Included:
7
Day 7: Tapani (2700 metres)
We leave today and come to the main trail of the Ghandruk and Poon Hill trails. You will notice quite a difference from the trails we were on. Tonight we will reach a collection of lodges at Tadapani. Where we will stay for the night.
Included:
8
Day 8: Pokhara (990 metres)
Today is our last day on the trail. We will trek and reach Ghandruk for lunch. After a relaxing lazy lunch, we will walk for one hour to reach the awaiting vehicles. We will journey in the car for about 3 hours to picturesque Pokhara. Once settled in Pokhara, we will go out for a drink by the lovely lakeside.
Included:
9
Day 9: Kathmandu (1350 metres)
This morning we learn about the projects in Pokhara.  This afternoon we fly back to Kathmandu and say our goodbyes! We hope to see you back in Nepal soon.
Included:
Breakfast
Flight to Kathmandu
Sorry, the comment form is closed at this time.