Visit Southern Norway by Cycle
Welcome to Norway's Southern Coast!
Come and join us along the attractive Southern coastline of Norway by cycle. Also known as Sørlandet in Norwegian. It's home to quaint towns and famous for its white-painted wooden houses. The Southern coast is also a popular place for Norwegians to spend their summer holidays. What better way to explore this spectacular scenic destination than by cycle?
Our cycling tour will take you to five cosy small towns along the coast, full of mesmerising scenery and charming white wooden houses. Pack lightly as you to ultimately enjoy using a pollution-free form of transport (cycling) to the fullest during the Norwegian summertime.  You will begin in Oslo and travel via train or bike to the rugged coast near Risør. The Southern coast of Norway has also been referred to as the Norwegian Riviera due to its extraordinary beauty.
Throughout your time on this tour, you will cycle at your own leisurely pace through places like Tvedestrand, Arendal, and Fevikkilen. These places are renowned for their narrow streets, white wooden houses and general summery vibes. You will be able to stop along the way at aesthetically pleasing beaches, rock formations, historic islands and make day-trips to nearby islands.
Your journey will come to an end with a relaxed ride to Lillesand before taking the train back to Oslo for your flight home.
Trip Highlights:
Cycle along the picturesque coastal town of

Risør

Enjoy a seaside cycle route from Lyngørporten to Arendal
Explore Arendal's historic village centre and beautiful harbour
Bike to the 0ld fashioned town of Grimstad where you can see old fashioned boats, pretty boutique stores and appealing alleyways.
But I don't Cycle Much?
Don't worry you don't have to be a pro cyclist to enjoy this tour! It's suitable for everyone as it's a relaxed pace.
What about my safety? 
We take you off the big main roads to maximise your safety on your tour.
What are you waiting for?
Breathe in the fresh southern Norwegian air, whilst cycling at your own pace to charming small towns across the renowned 'Norwegian Riveria'.
For a further break down of what this fun trip includes, click on the
trip plan above.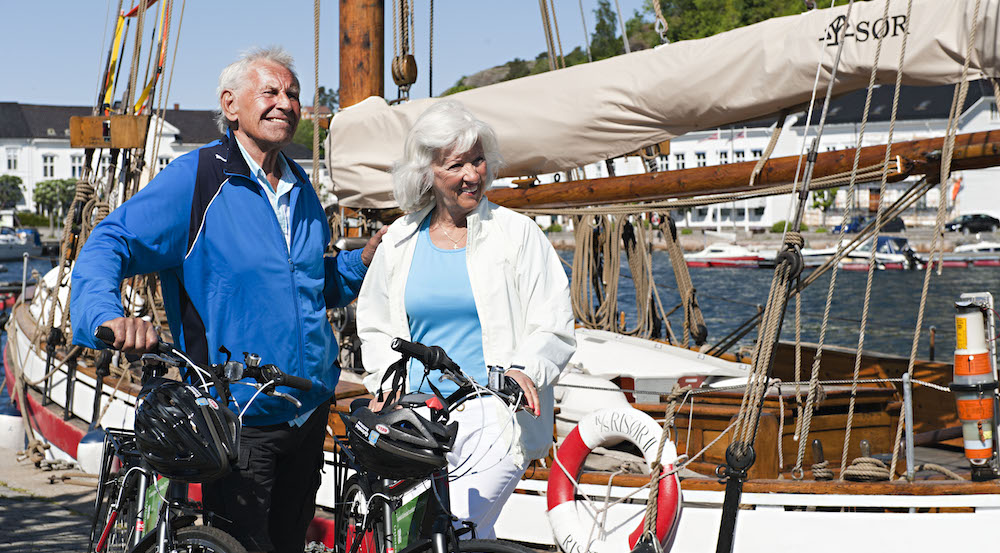 Cycling in Risør.
Photo © Terje Rakke / VisitSørlandet
Destination

Departure

Southern Coast of Norway

Departure Time

On request

Included

Visit Southern Norway by Cycle

Transportation

Bed & Breakfast

Not Included
1
Arrive in Risør
You will start your trip in the picturesque coastal town of Risør

.
This is a heritage preserved wooden town home to cultural festivals, a large archipelago and is renowned for its history of building wooden boats. Alongside its spectacular coast, its surrounded by beautiful little lakes and hills.
Spend your day relaxing on the waterfront enjoying the views of the beautiful old white wooden houses. If you're lucky you may catch the famous wooden boat festival that occurs here in the first week of August!
Be sure to check out the old lighthouse on an island of Stangholmen nearby which is open as a restaurant from May to Mid August.
2
Cycle from Risør to Lyngørporten
Have a hearty breakfast in Risør.
Because soon after, you will cycle through the woods with varieties of Norway's nature and wildlife surrounding you. Eventually, you will reach the seaside town of Lyngørporten. There is lots to do here!
We suggest:
In the afternoon take a five-minute ferry to the community of Lyngør just across the harbour. What's even more fascinating is that this island is completely car-free! Making it one of the best-preserved villages in Europe. Take a break from your bike and stroll through the alluring narrow streets. The pathways lead to polished rocks which are ideal for sunbathing and swimming off.  If you a feeling incredibly adventurous you can rent a kayak and paddle between the neighbouring islands.
To eat

-
 try out the tavern in the Lyngør. Which provides outdoor seating, a seafood bar and restaurant at the ferry landing named Pers Brygge.
Snacking Options
- There is a grocery store on the island that comes in handy when requiring picnic items or needing snack food for the concerts in the summer months.
That evening, make your way back to the ferry across to Lyngørporten and stay overnight.
Cycling Distance:
13 miles (20.9 km)
3
Cycle from Lyngørporten to Arendal
After breakfast in Lyngørporten, embark on a seaside journey on your bicycle.
This journey will take you through picturesque towns of the likes of Tvedestrand, Kilsund, and Narestø to reach Arendal.
Did you know that Arendal was once known as the Venice of Scandinavia?
Arendal used to have a range of canals until they were turned into wide streets proceeding a violent and destructive fire. Nowadays, the town still oozes with historic charm. During the summer months, the town is infiltrated with domestic holidaymakers giving Arendal a fun and atmospheric vibe. Especially around its harbour (Pollen) as boats casually bob in the water, many outdoor restaurants and bars. Also, be sure to check in advance as this town has a stocked calendar full of festivals and open-air concerts by the tranquil coastline (
mostly occur on weekends
).
The Best Place To Start Exploring Arendal-
There are many things to do here. So, we suggest the best place to start is the village centre. As you can visit Tyholmen for its elegantly preserved 18th-century wooden houses. Up until this day, a lot of artists and craftspeople have migrated here from Oslo restoring these structures back to their magnificent original glory.
Cycle Distance: 29.5 miles (47 km)
4
Cycle from Arendal to Lillesand
Wake up rejuvenated and enjoy breakfast in Arendal.
Today your bike trip continues to Fevik where you can take a pause for snacks and refreshments. Then make your way to Grimstad. This town contains old fashioned boats, pretty boutique stores and appealing alleyways.
Then, you'll cycle through a gorgeous forest towards Lillesand where you will return your bike to the tourist office. This evening spend your last night in Norway walking through the town and have dinner at one of Lillesand's quaint seaside restaurants.
Cycle Distance

:
8.3 miles (40.2 km)
TOUR LOCATION
This cycling tour for all abilities
commences
in Risør following the gorgeous Norwegian Riveria i.e the Southern Coast or also known as Sørlandet by the Norwegians.
Following this, on
day 2
you will venture on your bicycle from Risør to Lyngørporten. Maybe even get the ferry to the phenomenal car-free island of Lyngør!
Day 3
you will experience some stunning picturesque seaside towns as you ride from Lyngørporten to Arendal. You will pass through coastal towns such as Tvedestrand, Kilsund, and Narestø before you reach Arendal.
Then, on your
fourth and final day
, you will cycle from Arendal to Lillesand. On the way to Lillesand, you will stop at Fevik for snacks and refreshments. Then make your way to Grimstad before finally dropping your bike in Lillesand.