Nordic Self-Guided Trek- From Mountain to Fjord
Norway is a country renowned for its attractive natural landscapes. There are many scenic routes and trails to embark on allowing you to witness first hand the spectacular planet we live on. Likewise, by delving straight into nature you will meet charming locals, fellow hikers and make wonderful connections with the outdoor world.
This is exactly why you should visit Norway. Did you know it's home to over one thousand fjords and over 293 peaks? The rural areas in the country are rather serene.
Here at Ethical Travel Portal, we offer an epic self-guided trek from the magnificent mountains to the fantastic Fjords.
Take part in a self-guided active, upbeat unforgettable journey off the beaten track which is truly an experience of a lifetime! On this trip interact with the locals, hike from mountain cabin to mountain cabin, devour tasty local food and challenge yourself all whilst surrounded by magnificent nature! You will also travel by local transportation such as the train,cruise or bus.
Trip Highlights:
Travel via local transportation such as train and cruise through the fjord landscape
Meet a local expert in Bergen who will provide you with some handy tips
Enjoy scenic views of Gausta, Hardangerjøkulen glacier and parts of Jotunheimen National Park whilst trekking
Visit one of the most beautiful hiking areas in Norway known as Aurland Valley
Take a fjord cruise through the stunning Sognefjord
Interested? Enquire with us today. Want to know more? Click on the trip plan above for further information!
Destination

Included

Nordic Self-Guided Trek- From Mountain to Fjord

Local Guide

Transportation

Bed & Breakfast

Not Included
1
Day 1: Arrive in Bergen, meet and greet with a local.
Welcome to Norway and its former capital Bergen located on Norway's South-West coast. Amongst this scenic city is seven mountains which surround it. It's also renowned for its central location for fjord trips and amazing culture life for many years! Upon arriving at Bergen airport you will travel like a local towards the city centre. You can do this by using the Airlink bus or light train. Once you've arrived at the main area of Bergen and settled in, it's time to meet one of our local specialists! You will head to a coffee place or if coffee is not to your taste then you can get a local alternative. Then, from here we can talk about your upcoming trek. Also provide recommendations for restaurants, activities, discuss about Norway and anything about the country you may be interested in such as (politics, history, hiking tips and conditions, and so forth).
2
Day 2: Bergen- Train to Haugastøl
Grab a tasty breakfast and afterwards spend most of your morning exploring Bergen. Next, head to the train station for a four-hour scenic journey to Haugastøl. This is close to the highest and most mountainous point on the Bergen railway. As it's between Norway's two largest cities! Upon arriving into Haugastøl, you will have the afternoon to explore as you wish at your own leisure. From here it's an easy trekking route to reach Rallarvegen by foot. This route is cultural and a historical monument with scenery that spans from the tall mountains and glaciers to lush valleys. As well as epic fjord views. Did you know Haugastøl is located in the middle of national parks, protected areas and it's a wonderful starting point for treks and biking? This evening, bask in the quiet wilderness before you sleep.
3
Day 3: Train to Finse Hike to Geiterygghytta
Enjoy your time this morning in Haugastøl by having a tasty breakfast. As well as prepare a packed lunch for your first day of hiking. You will begin today's adventure by walking back to the train and taking one-stop to Finse. There you will come across a track and commence your self-guided hike, which takes around 6 hours to complete. Whilst doing this you will have phenomenal views of Gausta, Hardangerjøkulen glacier, and parts of Jotunheimen National Park along the way. This afternoon, pause for a break and take time to enjoy your packed lunch whilst you find a cosy spot to eat. Then, mid-afternoon you will arrive to Geiterygghytta where you will spend the evening.
Hiking Distance: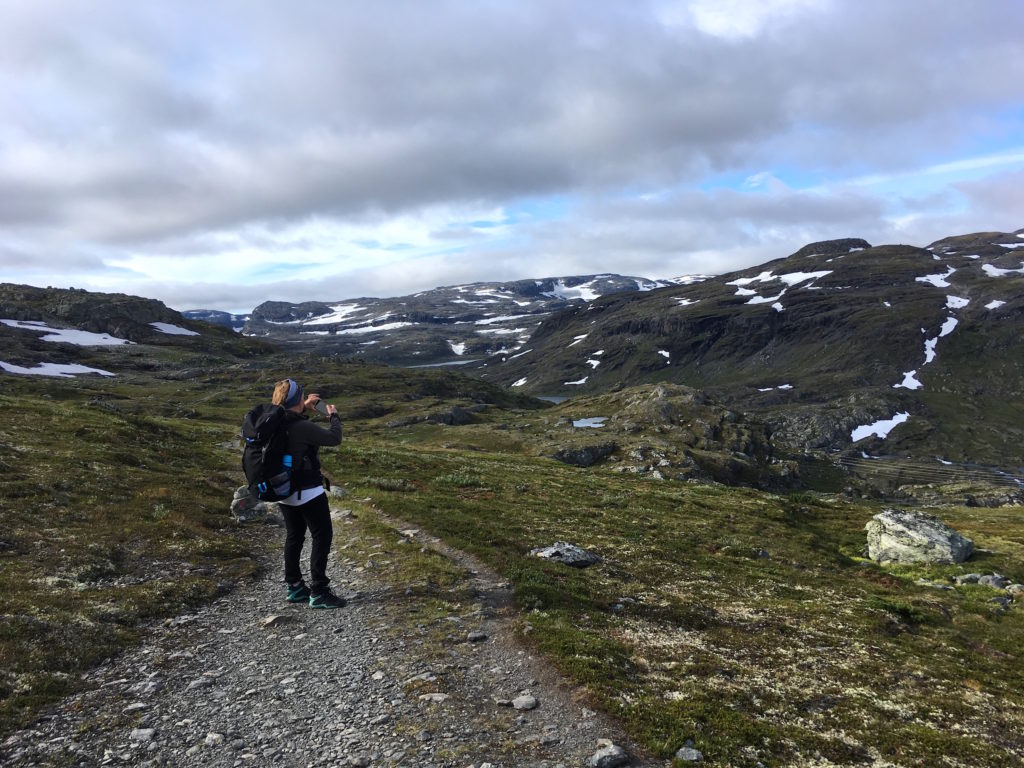 4
Day 4:  Hike to Østerbø
Eat breakfast this morning with fellow hikers, pack a lunch for your second day of hiking and commence on the trail. Your route today will take about seven hours however it will be mostly downhill. The path descends diagonally along the mountain to Steinbergdalen and you'll continue until you pass the Grøna River bridge. You'll eventually reach the start of the beautiful Aurland Valley. Once you reach Østerbø relax and devour a delicious three-course dinner.
Hiking Distance:
25 Km (Around 7 hours worth of hiking)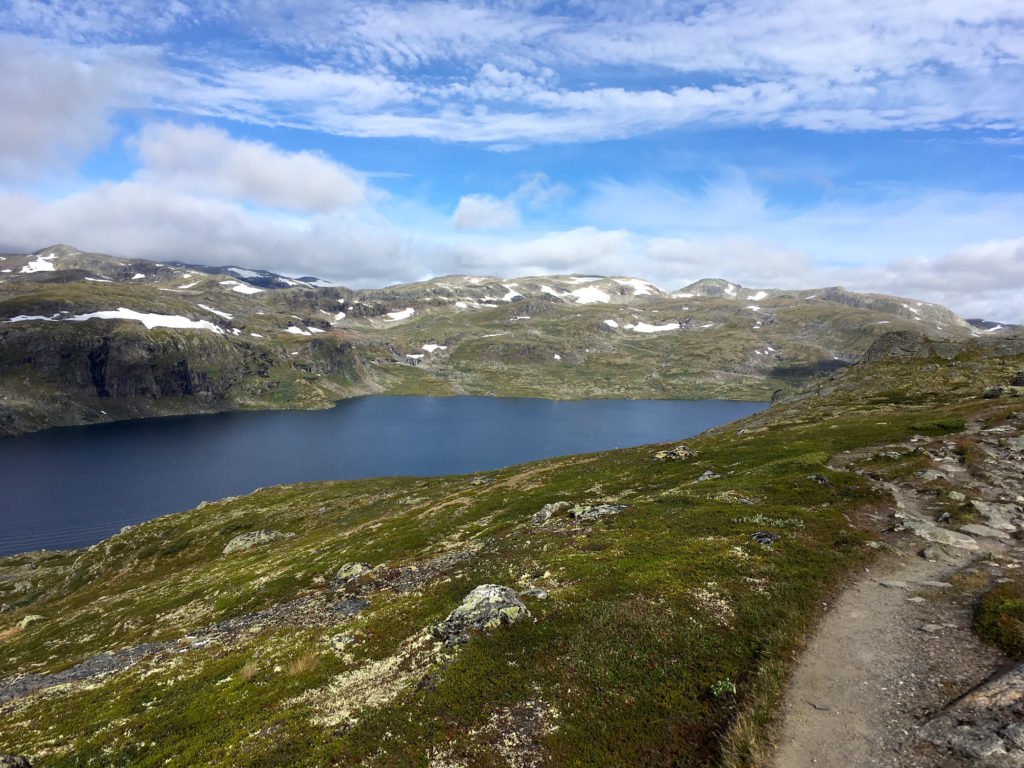 5
Day 5: Hike to Vassbygdi
Have you had a good night's sleep? Wakeup and appreciate your time here as today is your last day hiking! Pack your lunch and get started on the trail which will roughly take around six hours. Today you will make your way through the wild and stunning Aurland Valley, which is known as one of the most serene hiking areas in Norway. Along the path, you will experience unspoilt nature combined with many notable points as it passes through old cemeteries, wooden bridges and tiny farms. There are tiny descents assisted by handrails and steps. Once you reach Tirtesva, you can choose the newly restored upper route, giving you an even more spectacular view than the path following the river. After when you get to Vassbygdi there will be a local bus to Aurland (bus schedule will be announced closer to your arrival).
6
Day 6: Aurland | Ferry to Bergen
Make the most of this morning and afternoon relaxing before taking a stunning fjord cruise to Bergen and in the afternoon across the beautiful Sognefjord. Why don't you take a lovely stroll around the peaceful quaint village of Aurland before your boat leaves? Similarly, if you are a fan of cultural experiences you should visit the Aurland Shoe Gallery Vinjum or Aurland 292 for a fantastic lunch with local ingredients. Also if you're interested in further hiking, there is a nice walk to farm Turi where there is also stunning views! That's if your legs can manage after several days of hiking. In total walking from  Aurlandsvangen to Stegastein is around 6km with an elevation gain of 700m. This trail is not marked however easy to follow once you locate the starting point. Then once there, there is a trail commencing from route 50, 2km east of the centre of Aurlandsvangen going up the mountainside towards the farm Turi. This afternoon take the Fjord cruise and arrive in Bergen this evening. If you want local recommendations for dinner we advise to visit  Altona, Spisekroken, Colonialen , 1887 and Bryggeloftet.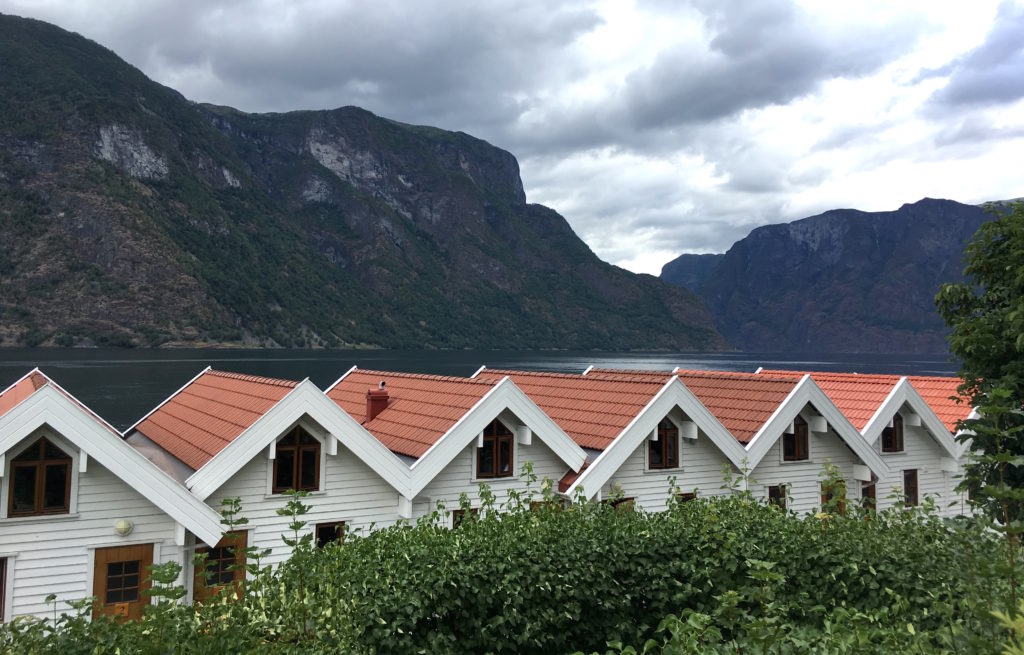 7
Day 7: Explore Norway's former capital with a local
After your breakfast
meet in reception at 9:00 AM.
Meet up with a local resident for a personal private tour of Bergen. Your guide who is a Bergenser, will show you the insight to Bergen and Norway. Your specialist today will lead you on a stimulating hike near Bergen to Mt Sandviken. Mt Sandivken is one of the seven mountains surrounding Bergen. On this hike, you will also visit Stoltzekleiven a local favourite consisting of 900 steps crafted by Sherpa people from Nepal. This trail is also home to the steepest race in the world and features spectacular views from above! Challenge yourself whilst listening to local stories on how it is to grow up and live in Norway. Also, hear first hand on how it is to be a "Bergenser" and discover how to hike like a local, here in town. Also if you would like to do something else, we can also accommodate. The rest of the day is yours to continue exploring the city on your own, inspired by the recommendation from our locals. We recommend:
Visiting old Bergen (Gamle Bergen). This is a reconstruction of Bergen from the 1800th century. To get there we advise it's best to take the bus (4,3- to the stop Gamle Bergen).
Go to the 4 KODE art museums, with the munch collection, as well as the Astrup collection. Also many more.
Bergen maritime museum, showing boats, ships, historical and modern ones.
The fortress museum displaying the history of Norway with exhibitions on historical wars, WW2 and modern warfare.
- Trollhaugen / Fantoft stavkirke outside of Bergen (reachable by the city light rail, however involves some walking)
Recommended local restaurants:Pingvinen,cornelius, bare Vestland, Dugg frisk, Lysverket, Skyskaperen (on the top of Mt. Ulriken).
8
Day 8: Say Goodbye to Bergen
Say your farewells as you leave Norway today! Appreciate the last moments you have in this stunning city with a lovely breakfast, neighbourhood stroll and if you wish souvenir shop before you head to the airport. To get to the airport, we recommend travelling by a local and reducing your carbon footprint by taking the light train to the airport.
Sorry, the comment form is closed at this time.