Romania, a European country with rich history, grand landscapes and stunning gothic architecture. If you're wanting to explore this country one of the best areas to visit is Transylvania. Apart from Transylvania being the birthplace to the fictional character Dracula, it's also home to the Carpathian mountains and gorgeous green landscapes.
This is one of the best regions to witness local nomadic life and spectacular scenery in the mountains. The best way to explore Transylvania and the Carpathian mountains is by foot on a hike. Here at Ethical Travel Portal, we offer a self-guided hike through terrific Transylvania.
Arrive into the region via train and witness the hauntingly beautiful gothic architecture in Brasov. This is a medieval city and you'll be able to see the rich history the moment you arrive. Travel back in time to Bran village a commune in Brasov county and the highest in Romania!
Get ready to visit the home of the Transylvanian count, Dracula at the top of Bran. Commonly known as Dracula or Bran Castle.
Did you know Romania has 14 national parks and over a quarter of them are in Transylvania? On this journey, you will spend time walking in Piatra Craiului National Park. There is a large amount of wildlife here home to wolves, eagles, bears, owls, bats and many more.
The mountain regions have spectacular caves, meadows, gorges, forests and rivers. In between these areas are quaint villages home to interesting locals living off the land. Spend time interacting with locals, learning the way of life in the Carpathians, tasting local food and be at one with the nature of Romania.
Trip Highlights:
Visit Bran Village
Enjoy spectacular views of the mountains
Hike through Piatra Craiului National Park
Visit the highest commune in Romania
See the 7 ladders canyon
Interested? Enquire with us today. Want to know more? Click on the trip plan above for further information!
Destination

Included

Not Included

Local Guide

Transportation

Dinner

Lunch

Bed & Breakfast
1
Day 1: Welcome to Brasov!
Make your own way to Brasov by train. Once in Brasov take time walking around the medieval city which has been a popular backdrop for many films. This ancient city was originally founded by Teutonic Knights back in 1211 from an ancient Dacian site. Due to its location, it was also a popular area for Saxon merchants. On the outskirts of Brasov, you'll also notice the south of the Carpathian mountains.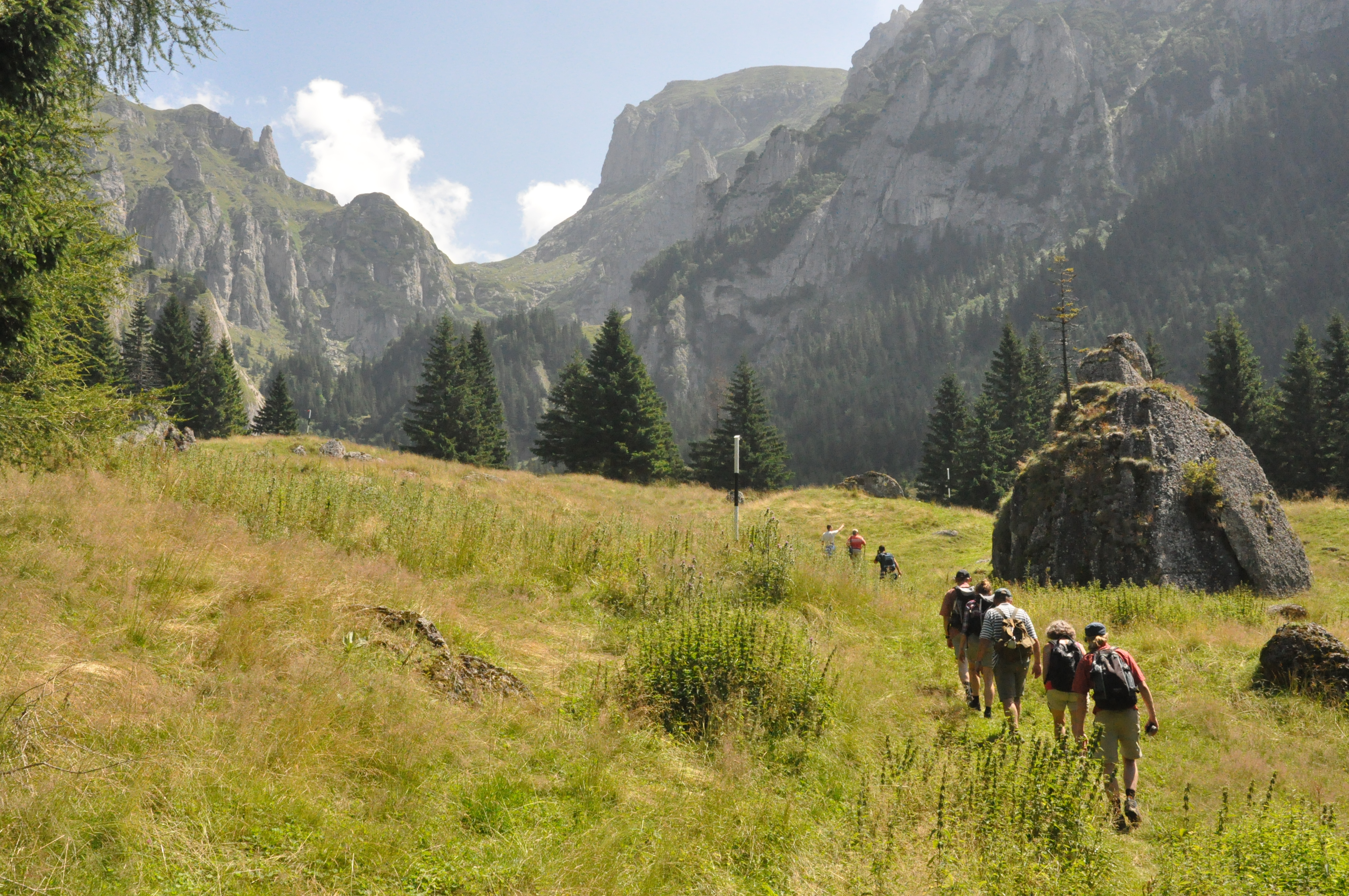 2
Day 2: Hike from Bran
Have your breakfast and then take a transfer to Bran village (around a 40-minute journey). Once in Bran, if you wish, visit Bran castle otherwise popularly known as Dracula's castle. This is a national monument and famous landmark in Romania built-in 1377. At Bran, begin your walk-in Piatra Craiului National Park toward Magura village an authentic, tranquil and cosy village in the mountains. This route is easy to medium and should take around 4-5 hours to complete. Throughout the hike today you will pass through forests and meadows witness some mesmerising views.
3
Day 3: Hike through Piatra Craiului National Park
Line your stomach with a wholesome breakfast. Afterwards, you will hike for around 5 hours in Piatra Craiului National Park until you reach Curmatura. On this route, you will cross the hypnotising Zarnesti Gorges. Don't be surprised if you become speechless by Zarnesti's beauty!
4
Day 4: Hike to Pestera mountain village
Today, hike for around 4-5 hours to Pestera mountain village. Once arrived, travel back in time and witness untouched traditional mountain life lived by the locals. Whilst here, why don't you interact and try some of the local specialities?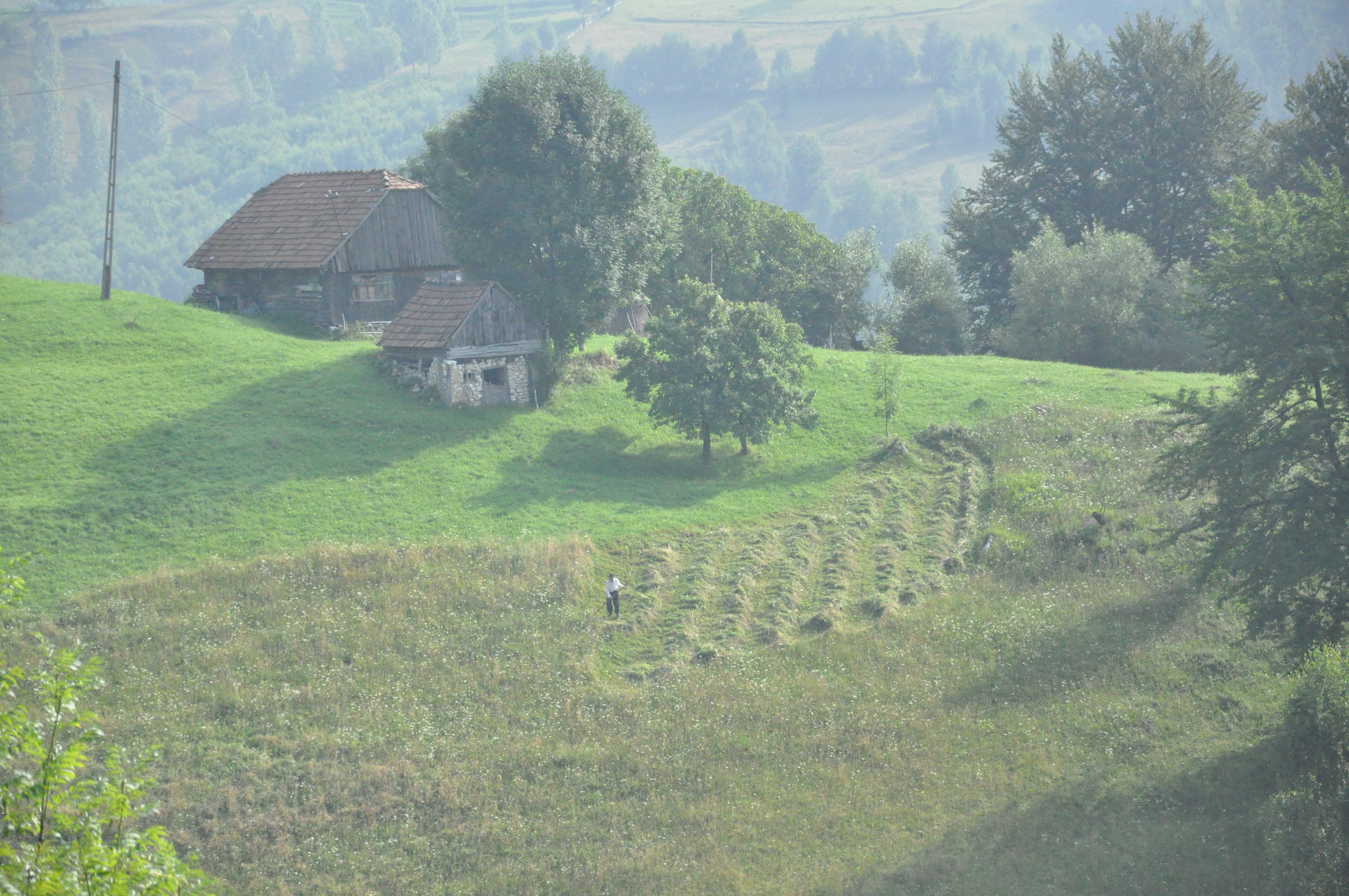 5
Day 5: Hike to Fundata 
Your hike today will consist of visiting authentic mountain villages from the bottom of Piatra Craiului National Park through Pestera and towards Sirnea (Romania's first touristic village). During every June in Sirena, a tradition occurs measuring milk and meeting the village sons. Likewise, since 1969 in the winters there are skiing races, sleigh rides and parties organised at the cultural centre. Finally, after Sirnea reach Fundata and meet the locals! This village is surrounded by the Bucegi Mountains and Piatra Craiulu Mountains. The altitude in Fundata is 1360 metres which makes it the highest commune in all of Romania! During August 1916, when troops of the old kingdom entered Austria-Hungry, the first village they captured was Fundata. They suffered their first battle death there. Hiking time today is around 3-4 hours. However, depending on your time spent in the villages, it may take longer.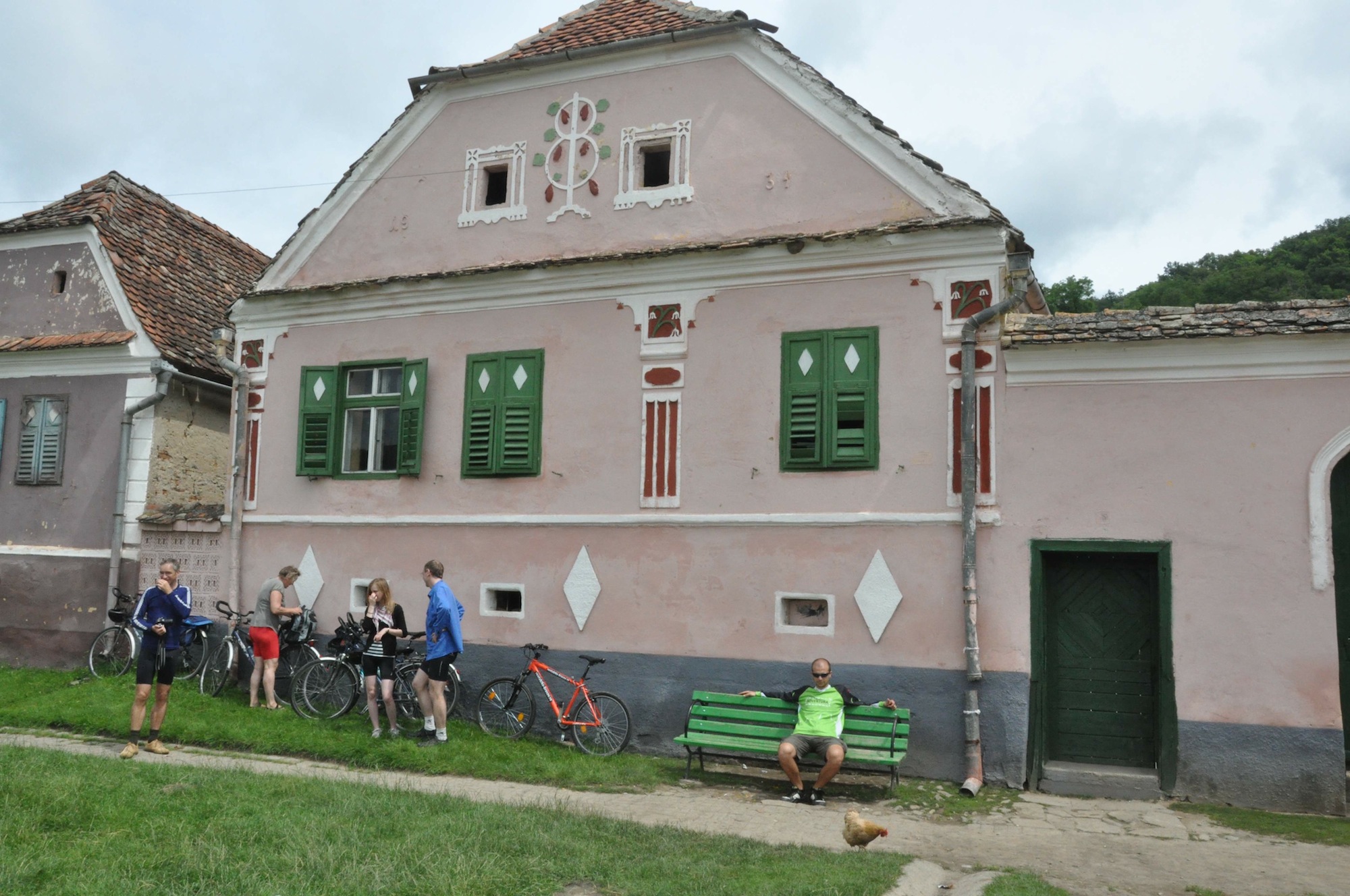 6
Day 6: Walk to Moeciu de Sus village
Have your breakfast and then go for a 2-4 hour walk in the village of Fundata. This is a fairly easy to medium walk. You'll finish up in Moeciu de Sus.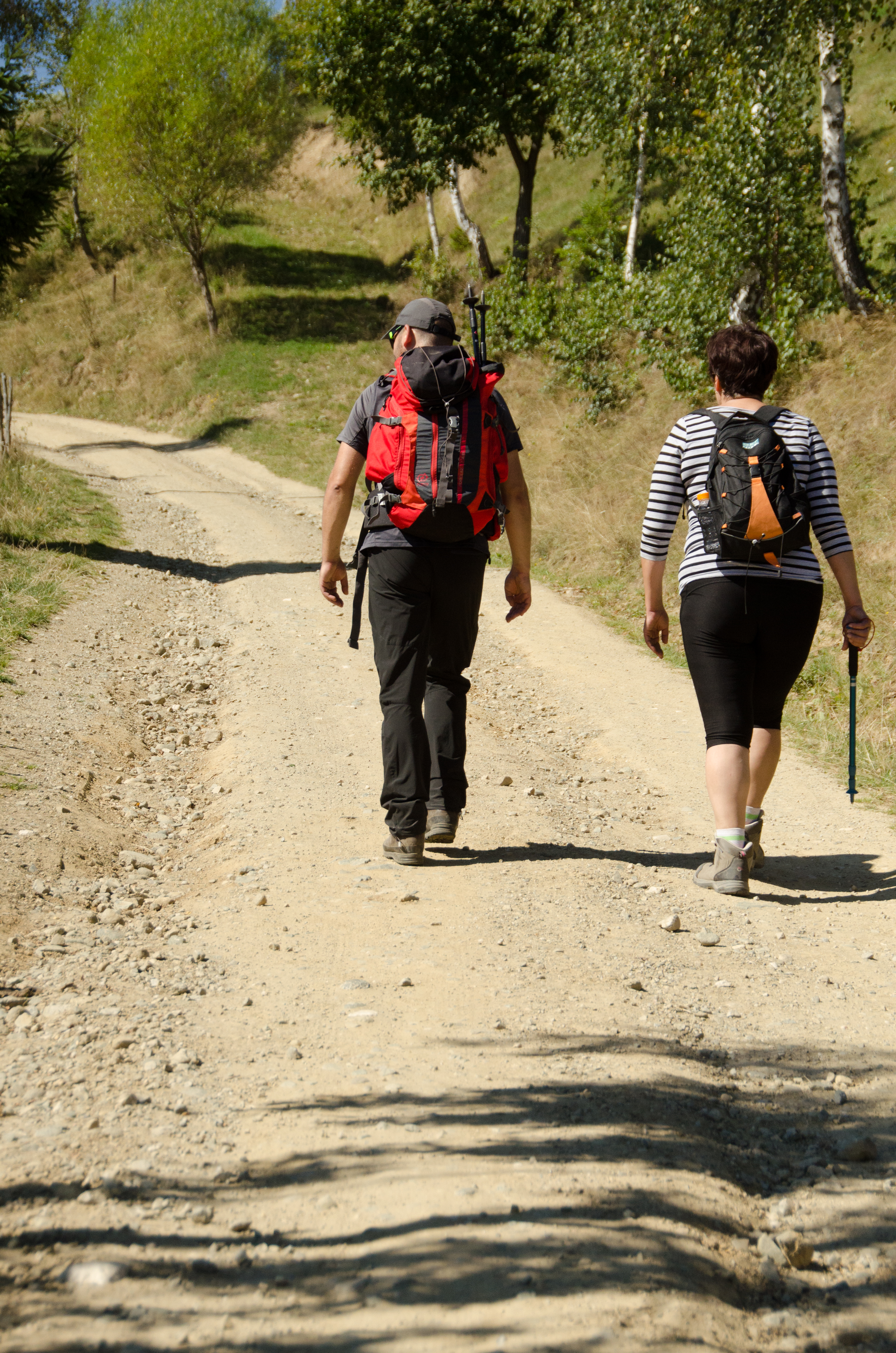 7
Day 7: Visit 7 Ladders Canyon
After breakfast transfer for about 1 hour of the starting point to the 7 ladders canyon from Piatra Mare Mountain. This magnificent canyon has been carved in Jurassic limestone and formed from seven waterfalls. The tallest waterfall is 15 metres high. You will walk a medium rated hike across metal stairs and platforms on the trail in the canyon. This should take 3-4 hours to complete and once done you should reach Otopeni this evening.
8
Day 8: Goodbye Romania!
Enjoy your morning and make the most of your time grabbing some last-minute souvenirs before your airport transfer to Bucharest airport.
Included: 
Sorry, the comment form is closed at this time.