1
Day 1: Fjordcruise from Bergen to Hardanger and Odda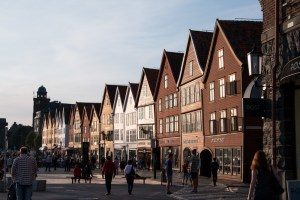 Hello and welcome to Norway!
Commence the start of your voyage by boarding a scenic fjord cruise from Bergen to Rosedal. You will arrive in Odda a town renowned for its stunning landscape and the gorgeous apple tree blossoms during the spring season. This magical place is surrounded by waterfalls, blissful blue glaciers, fjords and general epic scenery. This evening kick back, relax and let the marvellous Norwegian nature take focus while you enjoy a local dinner with Norwegian specialities.
Included:
Fjord cruise from Bergen to Rosedal

Local Dinner
2
Day 2: Trolltunga Sunset & Sunrise
Most tourists only spend a day hiking up and down the Trolltunga. You are not.
You lucky individual are on a longer mission which will start at midday and your local expert will hike up the Trolltunga with you. Spend this day at your leisure taking time to enjoy your lunch whilst appreciating the overwhelmingly gorgeous Norwegian nature that surrounds you.
Upon arrival at the top, congratulate yourself for your hard work! Then enjoy your reward by taking pleasure with an outdoor evening dinner on Trolltunga. Sit there, be part of nature and witness the surreal sunset from the west behind the FolgeFonna glacier. As well as getting an extraordinary view over the Ringedalen lake.
Included:
Hiking up Trolltunga with a local expert
Outdoor evening dinner on Trolltunga
3
Day 3: A Taste of Hardanger & Norway
Be sure to wake up early to enjoy the sunrise and epic view around you!
While
YOU
also enjoy breakfast before begin hiking back.
Today, you will arrive back around 2-3pm just in time to relax after an active start to the morning. Tonight, spend the evening chatting about your experiences last night and future adventures ahead. Here you will be served locally produced tasty cuisine alongside Norwegian beverages in great company.
Included:
Hike down the Trolltunga.
An authentic dinner with tasty local food and Norwegian beverages.
4
Day 4 : Trolltunga highlight, by mountain biking and the ferrata route Himmelstigen to Trolltunga
Today you will experience Trolltunga from another angle.
An off the beaten track hike packed with Norwegian history and attractions. Start by mountain biking for 7km, before hiking up the river of Tysso. To reach the famous Trolltunga, the last part will be to a climb up the Ferrata Himelstigen (The Ladder to Heaven). This hike will leave you engulfed by natures charm leaving a permanent lasting memory for the rest of your life. That evening you will return to a late hearty supper and a well deserved good night sleep.
Included:
7km of mountain biking
Hiking the river of Tysso
Climb up Ferrata Himelstigen (The Ladder to Heaven).
5
Day 5: Travel to Bergen
Say goodbye, as today you will take the bus back to Bergen.
A picturesque city on Norway's southwestern coast which is surrounded by a stunning coastline, mountains and fjords. It is known as the city of seven mountains as it's surrounded by peaks. As well as a beautiful port with many visitors and traders visiting frequently.
(We advise you to add on a few extra days to your trip to explore the historical city for a few days).
TOUR LOCATION
Explore Hardangerfjord and Trolltunga. This spectacular adventure will take you by boat exploring the sensational scenery on the way to one of the longest Fjords in the world!
Starting in
Bergen
you will take a scenic fjord cruise to the town of Odda. Next, you will hike up the Trolltunga to see the sunset and sunrise.
Then hike down the Trolltunga the following day remaining in the Hardanger region.
The following day you will hike up the river of Tysso and climb up the Ferrata Himelstigen.
Finally, your journey will come to an end as on the last day you will take a bus back to the western coastal city of
Bergen. 
Sorry, the comment form is closed at this time.