A Cotton Trail Adventure in The Gambia
4
mins read
 I have just returned from a trip upriver in The Gambia with my husband. The time before this we visited Footseps ecolodge, we heard about a new tour arranged called The Cotton Trail. Over the next year, we decided we'd like to do the tour and booked the first guest spot on it. We knew that Ethical travel portal and Linda had done a lot of planning, more than we had any idea about. As it was a new tour, we were lucky enough for Linda to come with us too. We also had a fabulous guide Lamin, and Yusuf, our hard-worked driver!
Georgetown and River Cruise
When we were there, we left early from Gunjur, at 6.00am, so that we could get to Bintan Bolong, in time for the sunrise. It was a really beautiful setting to eat breakfast and watch the sun come up over the river. Then followed a long drive which allowed us to see amazing changes in scenery, different greenness of the bush, towns with markets, colourful with fruit, veg, and anything else you could imagine.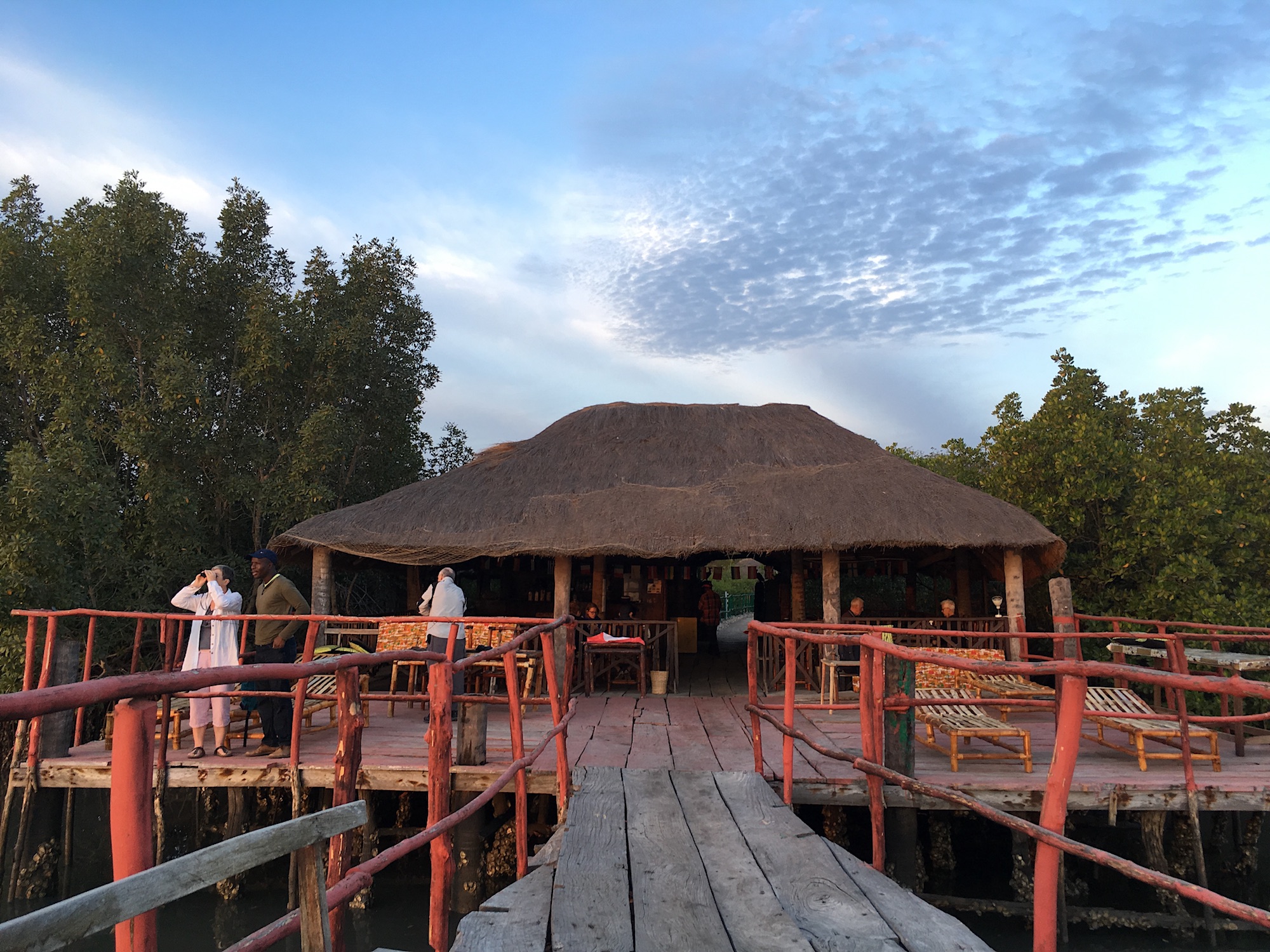 We arrived into Georgetown that is locally known as Janjanbureh, where we arrived for a local lunch of rice and vegetables. Our accommodation was clean with an en-suite and simple, but the setting, right on the river was breathtaking. 
Next, it was time to try and encourage the ferry to actually work ( little issues can make big problems here in The Gambia). We finally got across and to the boat. Whilst on the boat, the air on the river was cooler and sparkly, and it was nice to change to a different form of transport. 
The captain ferried us off down the river, and true to his word, he magicked up some hippos. They look so cute with just their eyes and ears appearing out of the water. They came up and down several times and were lovely to see. Unexpectedly, we also saw a crocodile, basking on a beach with its enormous yellow mouth wide open. That was VERY wide.
Then came the chimpanzees. We arrived at a time when the chimps on the island get some supplementary feeding. So they come to the trees visible from the boat. We saw adults and a youngster. I'd never seen nearly wild chimps before so it was a real treat,I couldn't stop smiling. 
Then onto Wassu Stone Circle. The 'Stone Man' tried to explain his theory for why the stones are where they are, but it was beyond me! And most people I gather! But an interesting experience!
We went back and ate supper which was delicious Gambian food, rice and various vegetable or chicken additions. We fell into bed very early exhausted by a long busy day. But a really fascinating day. So much to process!
Experiencing The Cotton Trail
The next morning we were up, watching the sun coming up further, sitting under the trees, drinking tea or coffee, and then omelettes appeared, and bananas. All served by the owner, come, cook, come do everything man. A lovely energetic enthusiastic local. 
Today was a bit of a later start. We headed upriver further, to Basse and from there, over roads of varying quality to a small village close to the border of Senegal. They grow cotton there, but poverty is very real. Wonderful happy smiling people welcomed us warmly and showed us around. They have little contact with the outside world, no WiFi or mobile signal, and seem to survive on very little. The clothes were, literally threadbare, but the children weren't asking for sweets or anything. We had no common language, but admiring a baby and smiling, seemed a good way of communicating.
We were told more about their situation. They had not got government rice in time to plant, so they got some from Senegal, which they had to pay back with a lot of the cotton they harvested.
They have one well, and in the dry season, if it dries up, they have no water. 
I have no idea how they cope with the limited amount of food and water, but somehow they do. It's a bit humbling to see how little they have and seem happy. However, it feels wrong that nobody gives them support. Then we were told what The Cotton Trail would like to do to help them, through a local NGO. It was very interesting. 
We then headed back to Janjanbureh, for supper and another early night.
Visit to the Women's project
We woke up to the lovely setting again, and went on a tour around Janjanbureh and were told about the local history and we fed overripe banana to the local goats surreptitiously). We bid farewell to Janjanbureh and got the ferry to the north bank.
Our final visit was to a Women's project, where they are turning plastic into saleable items.  But it is much more than that. They welcomed us warmly, and enthusiastically, and seemed so glad that we had come to visit. All so happy and smiling and enthusiastic. They were crocheting the plastic as we sat around listening to one of the group speak about the project. As well as recycling, the women are also learning to budget, as they earn from what they make. This enables them to take money into the family and makes them more equal to their husbands. There are things to buy and when we did, they were really grateful. They ended up dancing is a goodbye, we were enthusiastically encouraged to join in amidst much laughter and happiness. Hard to imagine a group in the UK acting in such an enthusiastic manner. This is The Gambia after all. Such a wonderful group of women.  
That night we stayed in a little place on the top of a small hill ( not many hills in The Gambia) with amazing views, and very special 360-degree views of sunrises and sunsets, all looking over the River Gambia in the near distance. It was peaceful and calm, and pleasantly cool in the evening. An excellent place to spend the night.
The next day we returned to Gunjur, quite tired. It is as there was A LOT of driving, but I didn't think we have stopped talking about it since. 
It was an absolutely AMAZING trip, I keep revisiting the pictures and smiling. I have many memories and I think they will stay with me. Groups of African families, women, all so welcoming, and pleased to see us, as if we were important people. We felt we were the lucky ones to have been allowed to see into their lives a little. And of course the hippos and chimps.
Thank you, Linda, for arranging an amazing trip in The Gambia, and it was very special to have you accompany us as well. Highly recommended.
Jill & Jeremy Spanton 
Sorry, the comment form is closed at this time.