Lviv- a place you want to stay longer
3
mins read
Lviv made me start dreaming. About the past, present and the future. After some days in Kiev was I delighted to finally find a smaller city, where you actually are able to get around on your own feet. The best way to get to Lviv from Kiev is by train, either an overnight journey, as I did, or do express during the daytime. It takes around six hours. I was impressed by the high tech display in our compartment which even told me when the toilet was occupied. My company this night was a young English speaking couple and a young man. The beautiful couple was so much in love and on their way to Lviv only to celebrate the girl's birthday, some days later. It was nice to small talk a bit before I comfortably fell asleep.
I love to travel independently, but at the same time, it was perfect to be picked up at the train station early next morning, and be taken to my destination.  My company for the day in Lviv was Natalja a local young woman and our local expert. She had a lot of energy and information to share. We were walking for hours around in narrow streets, observed cafes, a vintage hotel, museums and the old city wall. We were buying biscuits from an artistic painted van and saw huge portraits from the Orange revolution. As we continued our walk towards Lviv`s famous Rynok Square, did my urge for a freshly brewed coffee escalate. I was in the right city, but I just missed their annual coffee festival! When I told people that I love coffee, they even named me a 'coffee aficionado'. They said that it's because the air in this western city makes people sleepy, and the result is that they drink a lot of coffee. So, if you are of the same kind of person as me, you don't feel alive before you had a cup of brown gold, then you should consider Lviv as your next place to visit!
Lviv a charming city with approximately a population of 1 million and feels like people of the city are constantly moving around. It makes the city feel alive, among the beautiful buildings in the mix of European influence and 200 years old architecture. To find your favourite place to stay in Lviv it should not be difficult, it offers everything from fancy chain hotels, to independent vintage hotels and private guesthouses. In such guesthouses elements from 100 years back are still present, like quality wooden floors and a stove in mint coloured tiles. Your preferences should be easy to meet in Lviv.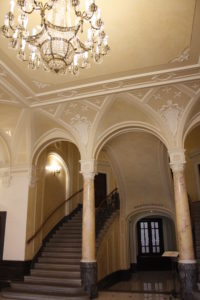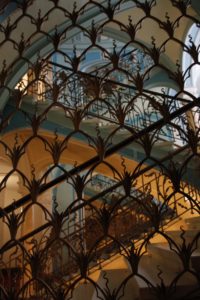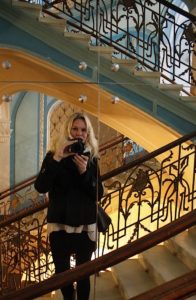 The city is also like a fairy tale when it comes to concept restaurants and cafes. Kryyivka Restaurant had no signs, so apparently, you just have to know about it. We knocked at a wooden door and a man who smelled authority in his green uniform asked us a question about nationality, and let us in. We went down the stairs and another solider was waiting for us in the cellar, where the light was red and the roof covered with photos on textiles of the soldiers from the Ukrainian Insurgent Army (UPA). Quite interesting.
Another outstanding place was a small cafe, with a dark blue painted wall and a portrait of the Jerzy Franciszek Kulczycki, originally from Ukraine. However, he is more known for opening the first cafe in Vienna serving coffee from leftover coffee beans from the Turkish.
The most different place to enjoy your meal was maybe Masonic Restaurant in honour of Leopold von Sacher-Masoch, the author of "Venus in furs". Just a short look inside presented us for a delicate, though different restaurant, with red lights, wall decorations of intimate body parts, whips and leather strings. Not even the waitress had a normal uniform, but corset and stockings. If this would be too much for you, I would recommend you to rather visit the well-known Lviv chocolate factory next door.
The city is listed on UNESCO's World Heritage List, and really worth a visit. All the Ukrainian people I met got stars in their eyes when they started talking about the Christmas celebration in Lviv. It starts on the 7th of December and all over the city will you hear choirs singing and groups of people conducting traditional plays in the streets. The traditional Christmas dinner is supposed to be an experience as well, 12 different dishes are the norm! I have already started dreaming about visiting a real old fashioned Christmas market. Also gathering outside the big church where 30 choirs are all performing Christmas carols together. Likewise, the citizens of Lviv meeting outside the church in front of the big fires and widescreens, enjoying a cup of a warm wine….
You are welcome to join!
Sorry, the comment form is closed at this time.