My Hike with a Bergen View
3
mins read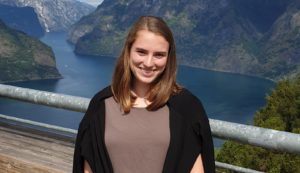 Since the end of May, I have spent my time working as an intern for Ethical Travel Portal at their office in Bergen. In the three months that I have been in Bergen I already have seen a lot of the city, but today I got the opportunity to see the city from a local perspective giving me an insight to the Bergen view on things.
Normally, I work at their Bergen office but today I spent my morning on a short hike with local expert John. He has been living in Bergen all of his life, life long experience of working in the travel industry, as well as loves to venture into the mountains for training and hiking. Dedicating his life to his city and travel he loves being a local expert showcasing tourists what his city has to offer.
During this tour, I accompanied the friendly family of Eric Glover, his partner, sons who are 13 and 15 years old. At the beginning of the hike, Eric mentioned he was interested in history and that he would like to see the older buildings of the town. Our expert John listened to Eric's interests by showing us heritage sites such as Bryggen and the fortress. He then told us terrific stories about the buildings. We then walked around the streets among lots of wooden houses. Whilst doing this John was sharing informative facts about Norway, Bergen and the war. During this, he was pointing out statues from that time to Eric who was thrilled to learn about this information.
Throughout this hike, our expert expressed a keen interest in Eric's family. I recall him asking the family where they've already visited in Norway and what the two children were interested in. They said they liked to play soccer and were excited about the upcoming season. What John did next was very attentive, he took their interests and included them in the hike! He did this by showing them some soccer fields where they could practice if they had free time before they left Bergen. These places were not destinations we would have discovered that easily if we weren't shown by John.
He also made the hike more personal by showing us the area where he now lives and where he grew up too. I thought his personal stories were a charming touch. I thought this was very nice and with the descriptive stories, he told while showing us the places I was even able to imagine what living there as a kid would have been like.
Immediately, a friendly bond was formed between our highly knowledgeable specialist and all of us. I really loved these small gestures of John showing a keen interest in the travellers. Next, Eric's family told John that they had cycled in every city they had visited so far. Also that they would like to cycle in Bergen but they weren't familiar with how the city bikes worked. It wasn't until the end of the hike when we were back at the hotel John explained to them about it and made sure they had downloaded the right app to use for the bikes for a great Bergen view.
If it wasn't for this enlightening hike from a local I wouldn't have seen the Bergen view I hadn't before, even after living in the city for 3 months. All of the places and information John provided us in just a few hours left me amazed. Although we were not really lucky with the weather, it was a pleasure to join this walk.
Thanks again to John and the Bergen office at Ethical Travel Portal for this wonderful opportunity,
Kelly Craenen
Sorry, the comment form is closed at this time.