Pu Luong – A Trip To Remember
4
mins read
I was lucky enough to travel to Pu Luong one of the under-the-radar destinations in Northern Vietnam. Isolate in rough off-road areas, Pu Luong has been overshadowed by a more popular destination Mai Chau. This time I ventured a bit further to explore more hidden parts and the authenticity.
A 4-hour drive took me to Mai Chau. I guess that the scenery is the first reason visitors flood to Mai Chau. Just imagine beautiful scenery outside of the window as you drive along the windy cliff-side road and picturesque villages, surrounded by green rice fields which gradually appear. I wish I could have spent more time here to watch the colour transition of the rice fields and see the grateful eyes each farmer for a pumper crop.
I took a short walk to visit the Thai minorities to learn about their lives and to see how tourism has transformed their community. These people relied on agriculture in the past. But now there are many accommodation and services run by ethnic minority families. Many homestays are well equipped to ensure that a travellers' stay is comfortable. Then lunch is served with such an amazing view.
In the evening, I set off on a trek to Pu Luong. Even though I had fallen in love with the terraced rice fields of Sapa, Pu Luong did not disappoint. Step after step Pu Luong kept surprising me with its stunningly picturesque scenery. In the late afternoon, I arrived at a Thai Stilt homestay in Don village. Making up the significant parts of Pu Luong are Thai and Muong, people. The cultural diversity is not so much a highlight as Sapa. There are no uproarious markets and colourful traditional handicraft. Yet people here have wined my heart with pure tranquillity and unspoilt local cultures.
Unlike Sapa or Mai Chau, rural life is still predominantly traditional in places like Pu Luong making it less attractive to young people. Hence, most of the young people move to big cities nearby due to the lack of interesting work. Tourism may help to revert this trend. The homestay experiences are fairly original without much influence from tourism. I had authentic connections with my host – Mr. Bong and his family while visiting their traditional stilted house. His kid played with goats in the courtyards while other kids made a box in her playground. One of them told me that, when it was raining, a slippery dirt slope turned into their slide. Their pure souls were undoubtedly admirable.
We patiently waited for Mr Bong's wife to prepare the meal for us, even though I was quite hungry after the trek. While his wife was in the kitchen, Mr. Bong shared with us the importance of the kitchen in their tradition. The cosy atmosphere in the homestay made me feel like home. Foods were cooked in the traditional Thai Style. They were very simple but organic with the garden-produced ingredients such as piper lolot, bamboo shoot and bamboo rice.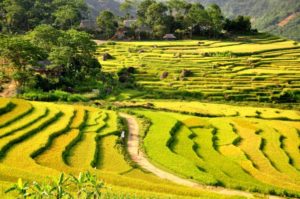 He shared with me that, due to the tough geographical condition, there aren't many choices for food and he was truly sorry for the simple meal. At night we had a great time listening to a musical instrument performance and dancing with the locals. It was one experience I had been looking forward to for a long time.
We spent the next day trekking further and exploring the hidden parts of Pu Luong. The trek was a feast for my eyes with its diverse scenery from pristine forests to the farmlands, from limestone to the valley, dotted with the settlements of ethnic minority villages and traditional water mills of the Thai people. Having a fair share of tourists, we only met a couple on our trek.
The indigenous hill tribes here sustain their livelihoods in much the same way as many other mountainous areas in Northern Vietnam by cultivating throughout the year. Hence, May and October are lovely in Pu Luong as the endless rice terraces all turn to the vibrant colour of yellow.
In the rainy season (September), the trek route will get slippery but are easily managed with proper shoes and expertise from our guides. One advantage is that you can explore Pu Luong's breathtaking waterfalls at its best when they are rich in water and swim in the crystal clear and cool water.




There is nothing I enjoy more in my travels than the chance to meet locals in their day to day work. This period of the labour-intensive harvest marks the end of the growing season. I had a chance to meet the hill tribes along the way. We met a woman who had just finished harvesting the crop and made her way down to the hillside, through the fields. We were totally seduced by the rustic allure of people here. It seemed to be a bumper crop for her with the smile showing on her face.
I spent one more night there before heading back to Vietnam. Taking an early morning walk around the village, to witness the morning routine, to hear the sound of a Vietnam village. This was a quiet and peaceful moment that I will cherish for the rest of my life.
This post is written by Hong Anh. Hong Anh is a Marketing Executive.
Sorry, the comment form is closed at this time.