Tracing Vikings in Ukraine
When you think of Ukraine, most likely you'll visualise Orthodox churches, Soviet-style architecture, Chernobyl, opera, ballet and its independence. On the contrary, an unusual image which normally does not come to mind is, Vikings!
The vicious Vikings have seemed to play a significant role in the founding of its capital, Kyiv. Traces of Viking history can also be felt in different cities and trails in Ukraine. One of the Slavic sites even has a graveyard full of Viking warriors. Also, a museum on this journey exhibits artefacts from a Scandinavian warrior dating all the way back to the 11th Century.
The UNESCO site Lviv is widely considered the coffee capital and has a distinct European vibe, and contrasts the Soviet styled cities across Ukraine. A wander in its streets showcases Polish, Armenian and Jewish quarters, marked in spots by old fashioned Ladas – quaint coffee & craft beer houses. This city is also famous for its artisans and talented chocolatiers.
Another highlight of Ukraine is the beach port of Odessa, famous for its sea-food and picturesque coast-line perfect for cycling. To ensure you get the most out of it, we will tour this port with an informed local.
Combine all these highlights with a visit to the small cosy village of Pidhirtsi and we have a beautiful rounded tour of eight days!
Trip Highlights:
Walking city tour of Kyiv with a local guide
Bicycle tour along Pecherski hills
Dnipro river cruise in Kayaks
Picnic on a Dnipro river island
Four-hour sightseeing and walking tour in Odessa
Visit a graveyard full of Viking warriors
Day tour to Pidhirtsi
Traditional local dinner in a museum
Interested? Enquire with us today. Want to know more? Click on the trip plan above for further information!
Destination

Included

Tracing Vikings in Ukraine

Local Guide

Transportation

Dinner

Lunch

Bed & Breakfast
1
Day 1: Arrival into Kyiv
Welcome to Ukraine and its magnificent capital, Kyiv. A city known for its mesmerising parks, river, architecture, cuisine, history, monuments and museums. Once you've landed we will collect you from the airport and transfer you to your destination. After you've settled in, you will undergo a walking city tour with a local guide. The Kyiv resident will show you the best places in the historic downtown. Kyiv is a city full of culture, modern and old combined. There are seven UNESCO World Heritage sites in Ukraine's capital! Simply be amazed by the variety Kyiv has to offer you. Amongst the standard destinations, you will also see off the beaten track places not many tourists get to encounter. Your local guide will also educate you about the Viking's footprint and the role they've played in Ukraine's medieval history.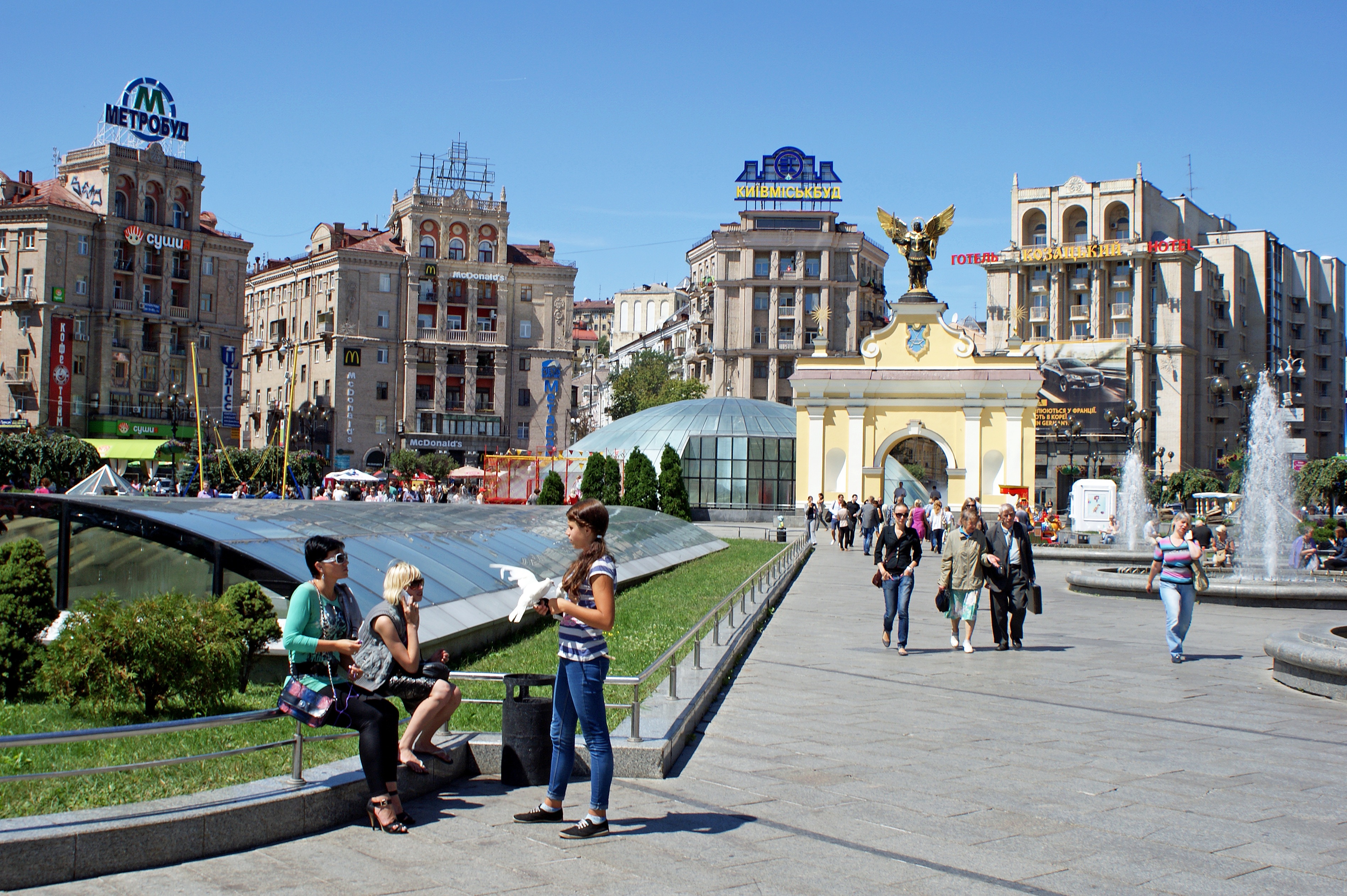 Included:
Airport Transfer
Walking tour from a local
Welcome dinner
2
Day 2: Immerse yourself in Kyiv's outdoor activities
Fill your stomach this morning, as you'll want to have plenty of energy for the fun day which lies ahead. After breakfast, you will take a bicycle tour along the Pecherski hills park. Whilst there, take a moment to indulge in the beautiful greenery and tranquillity of the park. Following this, you will undergo a kayaking session on the Dnipro river, beginning in the north and finishing in the south of Kyiv. This is exactly the same route many Scandivanian merchants and warriors made in the medieval days. We will refuel for lunch and have a picnic on one of the Dnipro river islands. Proceeding this, your afternoon is at your leisure to explore Kyiv. Unsure about what to do? There are many interesting places to visit such as the opera, ballet, botanical gardens and several gorgeous parks. Looking for somewhere to eat? Kyiv is renowned for delicious Georgian cuisine. If you would like any further suggestions, speak to us on the day and we can provide recommendations.
Included:
Bicycle tour along Pecherski hills park
Kayaking session with an instructor
Breakfast
Picnic lunch
3
Day 3: Explore Chernihiv for the day
After breakfast this morning, you will visit Chernihiv a city in the Northern part of Ukraine. Today you will meet your guide and undergo a sightseeing tour to understand how the city differs from the capital. On your journey, stop in at a scenic area on the bank of the Desna River. This specific spot where you stop, during the 11th century, is where one of the Kyiv Rus Kings built a fort-town for his Scandinavian warriors. Whilst in Chernihiv, interact with the locals and learn about their modern life in the countryside. Afterwards, we will return back to Kyiv.
Included:
Breakfast
Walking tour
Lunch
Transfer to Chernihiv
Transfer to Kyiv
4
Day 4: Hello Odessa
Today you will arrive early into the seaside city of Odessa. It's an attractive destination for Ukranian nationals as many choose to spend their vacations here. The alluring coastline and beautiful neo-classical architecture make it a must-visit destination. Alongside its architecture and scenery, Odessa is renowned for its scrumptious cuisine. Which you will get to try on the four-hour walking tour allowing you to try local specialities from restaurants. Then, visit the archaeology museum to witness the Runic gravestone from Beresan Island. Following this, take a leisurely walk along the shore with a local this afternoon.
Included:
Walking Tour
Transfers
Lunch
5
Day 5: Full Day in Odessa
Grab an early morning breakfast as today is filled with activities. After eating, enjoy a cycling tour. Ride around the streets and enjoy every moment of Odessa before it becomes crowded from pedestrians and traffic. We will cycle today along the streets, shore and city Quay. Once complete you will have the afternoon at your leisure. Tonight we will take an overnight train to Lviv.
Included:
Breakfast
Cycling tour of Odessa
6
Day 6: Arrival in Lviv
Welcome to Lviv. Have breakfast this morning and then have some time on your own to explore. Perhaps go to a coffee house and try a local coffee. Lviv is the coffee capital of Ukraine. Lviv is a city with lots of cultures, notice the Austrian, Hungarian and Polish influence as you wander around. Also, it's a UNESCO listed city. After you've had lunch undergo a city sightseeing walk around Lviv's downtown. This evening free for you to choose at your leisure.
Included:
Breakfast
Transfer from the train station
Local guide
7
Day 7: Day tour to Pidhirtsi village
Good morning, enjoy your breakfast and then take a transfer by van to Pidhirtsi village. Whilst here, visit an old Slavic site, Pilsnesko. In Pilsnesko there is a graveyard of Viking warriors, Ukranian baroque monastery and abandoned 17th-century place of a Polish noble family. During your day trip, you will also visit a small museum which houses artefacts which are believed to belong to a Scandanavian warrior of the 11th century. To conclude our day we will have dinner at the museum, then transfer back to Lviv.
Included:
Local guide
Transfer by van
Breakfast
Lunch
Dinner
8
Day 8: Goodbye Ukraine
Today is your departure day. Spend time grabbing some last-minute souvenirs in Lviv before your return flight home from Lviv Danylo Halytskyi International Airport.
Included:
Sorry, the comment form is closed at this time.