GREEN MICROPHONE AWARD 2020
3
mins read
"There were 1,5 billion international tourist arrivals recorded in 2019, a 4% increase on the previous year." This is how an article issued on UNWTO web page in January 2020 states. It continues, that the same growth is predicted for 2020, confirming tourism as a leading and resilient economic sector, especially in view of current uncertainties. About a month later, the world started raising alarms, cancelling the largest travel and tourism fair ITB Berlin. That was a clear indicator, that things are gravely changing. Afterwards the whole world went onto lockdowns and all of a sudden, the world, as we knew it existed no more. Travelling was of the table, but so were so many other thing that we have taken for granted. All of a sudden, we have awakened into a new reality and so many travel and tourism professionals were left jobless. This new reality of course also affected tourist guides, who were left without their customers.
Already in March of 2020, G-Guides started to offer the solution to tour guides, who were willing to find alternative ways of bringing amazing experiences to their customers. A special training was developed, to present, explain and teach the steps on how tour guides could keep on working on their business, but this time in the virtual world. We at G-Guides always believed that virtual tourism is an essential part of tourism, since it makes tourism accessible to all. And the training to become a certified virtual tour guide has seen students from over 50 countries, finding a new purpose conducting their job by creating unforgettable experiences online.
Since the days were just rolling into weeks and later months, we have seen, that the tourism industry responded. More and more guides and operators started offering virtual experiences, engaging with travellers, sharing their stories and creating meaningful experiences.  G-Guides was part of this process as we were working hard with students from around the world and helping them to transform and adjust their guiding to virtual world. As we know how hard it is, we have decided, that the Green Microphone Award in 2020 would go to guides, who create amazing virtual experiences. By pivoting their tours business online, they had to show great resilience, agility, innovation and a totally new set of skills, which are needed if you want to create virtual experiences. A virtual tour has very little to do with an actual tour, and only once you understand that and adjust all the needed parameters, can a virtual tour become a success.
The contestants for the Green Microphone Award proved they have the necessary skills that were needed for that and they kept on doing their work and earning money through creation of virtual experiences. That is how at the end of the 2020 Green Microphone Award we came down with two winners for the 2020 Award. The Green Microphone Award of 2020 was presented to Resi Nickl from Barcelona, Spain and Mike Turpie from Scotland, UK. Both winners equally deserve the award, and both are continuing to conduct virtual tours online, so you can join one of their experiences.
Instead of organizing just another zoom event G-Guides has decided to go off the beaten path. Green Microphone Award – voice of responsible tourism- was different in 2020, because everything was different in 2020. On the 27th of September, World Tourism Day, we hosted a 24h online challenge, where G-Guides was publishing relevant posts each hour from midnight to midnight. We have later transferred all the posts onto the event page, where you can easily find them: https://www.facebook.com/events/752475938930175/?active_tab=discussion.
The role of tourist guide remains as important as ever, so we will keep on rewarding guides who are the voice of responsible tourism. If you know of any tour guide that created an unforgettable experience, don't hesitate to recommend them for the Green Microphone Award in 2021: https://www.green-microphone.info/green-microphone-award. We would love to help spread the word about responsible tourism and amazing tourist guides to the world.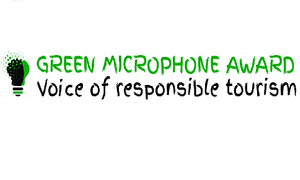 Sorry, the comment form is closed at this time.