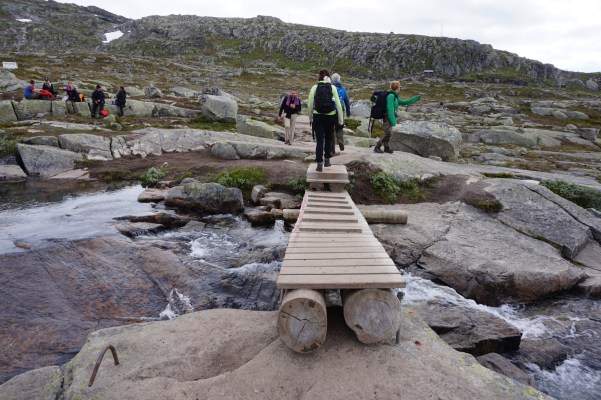 Hiking to Trolltunga in Norway
3
mins read
Trolltunga is one of the most spectacular rock formations in Norway.
Its name translates into the Troll's tongue. Local legends say the name was acquired from a smug troll. Who believed he wouldn't turn into stone when the sun shined on him. He attempted by sticking his tongue out and then got turned into stone. Hence, why Trolltunga looks like a Troll's tongue.
Trolltunga is situated about 1100 meters above sea level, hovering 700 metres above the lake Ringedalsvatnet. Due to its height and location, it plays host to some impressive views. In order to witness those remarkable views, you first need to pace yourself through a long and a somewhat demanding hike. However, it is worth undergoing as it's one of Norway's greatest hikes. A trip for your bucket list and definite one to remember.
Start of Your Hike
If you want to achieve the peak of Trolltunga you must begin in Skjeggedal.  From there you will proceed through the high mountains. The ascent is around 1000 metres. Don't worry though as the trail is clearly marked from the parking lot in Skjeggedal all the way to Trolltunga. Likewise alongside the markings, there are signs displaying the distance left to reach Trolltunga.
What happens if there's no mobile network? According to visit Norway  the countries leading telecommunications operator Telenor offers 4G network coverage on most of the hike. How epic is that, if you wish you can choose to share your phenomenal scenery live with loved ones on the way or on the Trolltunga!
When Is The Best Time To Hike? 
You can hike from mid-June onwards. Depending on when the snow melts in the mountains.
Usually one can hike to Trolltunga until mid-September.
For your own safety, we recommend you get a guide to accompany you for your hike.
Sahra from Ethical Travel Portal spent a weekend to experience the myth of Trolltunga. Her hard work, was rewarded with a fantastic view and great memories from start to finish. Photos from Sahra's hike are featured below
At some point in your life, you must make the trip to Trolltunga! It will not let you down. If you visit, always take careful consideration of your safety. For a safe guide hike to Trolltuna read VisitNorway´s guidelines.
Visit Norway: An epic guide for safe mountain hikes during the Norwegian summer.
Sorry, the comment form is closed at this time.